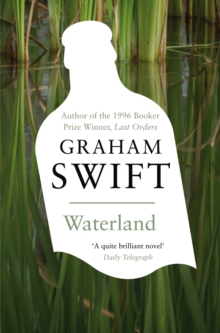 Description
`Perfectly controlled, superbly written. Waterland is original, compelling and narration of the highest order' Guardian In the years since its first publication, in 1983, Waterland has established itself as one of the classics of twentieth-century British literature: a visionary tale of England's Fen country; a sinuous meditation on the workings of history; and a family story startling in its detail and universal in its reach.
This edition includes an introduction, by the author, written to celebrate the book's 25th anniversary. `Graham Swift has mapped his Waterland like a new Wessex.
He appropriates the Fens as Moby Dick did whaling or Wuthering Heights the moors.
This is a beautiful, serious and intelligent novel, admirably ambitious and original' Observer `A 300-page tour de force . . . A burst of exuberant fictive energy' Evening Standard `Waterland is a formidably intelligent book, animated by an impressive, angry pity at what human creatures are capable of doing to one another in the name of love and need.
The most powerful novel I have read for some time' New York Review of Books
Information
Format: Paperback
Pages: 368 pages
Publisher: Pan Macmillan
Publication Date: 02/04/2010
ISBN: 9780330518215
Other Formats
Paperback from £7.65
Hardback from £9.15
EPUB from £7.19
Free Home Delivery
on all orders
Pick up orders
from local bookshops
Reviews
Showing 1 - 1 of 1 reviews.
Review by clfisha
16/06/2015
Masterful, engaging and hugely sweeping epic of the fens and ones man's life <i> Why are the Fens flat? So God has a clear view.. </i>Deep breath. Oh where to start and how to describe. This is the story of one man's life, a desperate monologue from a teacher at the end of his days to his last class. It is the story of his ancestors, their wayward paths culminating in this moment. It is a fascinating look at history of the waterlogged wet lands, of the flat muddy fens in east England and its never ending fight against water. It is an ambitious take on the broad sweep of geography and politics, of good beer and the sex lives of eels. It is a mesmerising exploration of myths and superstitions, of the lies and tragedies, of hope and curiosity of the fens. It is a gripping tale of insanity and murder, of love and gods. An intelligent take on what history means and what it's for. It is a meta-fictional, wry take on the nature of biographies and all their glories and deceptions and a beautiful playful poke at literary structure. It is a story of stories.<i> CHILDREN, CHILDREN, who will inherit the world. Children (for always, even though you fifteen, sixteen, seventeen, candidates for that appeasing term 'young adults', I addressed you silently as 'children') - children, before whom I have stood for thirty-two years in order to unravel the mysteries of the past, but before I am to stand no longer, listen, one last time to your history teacher.</I>For this is 52 yr old Tom Crick's last story, an acknowledgement of all that connects him to this moment, of the sweeping tide of history that has carried him to this ephinany of his life. It is at its heart a damn good yarn, a beautiful, heartfelt.. well tragedy or happy, reaffirming redemption? That my friends would be a spoiler.That Swift managed to write an engaging story in the format of a monologue, that he manages to pack so much in without the dissolution of the whole, that he can weave back and forth in time without confusion and slowly, carefully unfurl a page turning story whilst grappling with heavy weighty themes is stunning. As Swift says in the forward he felt he could get with away with anything and he was right. It may not be to your taste, but it's a fascinating and easy read nonetheless, one that works on so many levels, ones I haven't even had space to discuss, I really wouldn't hesitate to recommend it to anyone. <i> "But man - let me offer you a definition - is the storytelling animal. Wherever he goes he wants to leave behind not a chaotic wake, not an empty space, but the comforting marker-buoys and trail-signs of stories. He has to go on telling stories. He has to keep on making them up. As long as there's a story, it's all right. Even in his last moments, it's said, in the split second of a fatal fall - or when he's about to drown - he sees, passing rapidly before him, the story of his whole life." </i>Highly recommended, one of the best books of the year.
Also in the Picador Classic series | View all