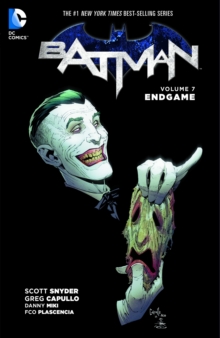 Batman HC Vol 7 Endgame (The New 52)
Hardback
Description
For years, the Joker has regarded Batman with a sick, twisted love,thinking that one could never exist without the other.
But that's all changed. Now the Clown Prince of Crime is done playing. He's going to kill Batman. Andhe's going to do it using those who Batman loves the most: the Justice LeagueThe Joker returns to Gotham City with a deadlier agenda than ever before, usingevery tool at his disposal to finally kill the Dark Knight.
That includesturning Batman's allies against him in the bloodiest brawl that he's ever had tosurvive. BATMAN VOL. 7: ENDGAME is the biggest, boldest story that the #1 NewYork Times best-selling creative team of Scott Snyder and Greg Capullo have toldto date.
With an ending you won't believe, this graphic novel is a classic inthe making. Collects BATMAN #35-40.
Information
Format: Hardback
Pages: 192 pages
Publisher: DC Comics
Publication Date: 22/09/2015
Category: Superheroes
ISBN: 9781401256890
Free Home Delivery
on all orders
Pick up orders
from local bookshops
Reviews
Showing 1 - 3 of 3 reviews.
Review by DanieXJ
10/11/2015
Wow. That was a mostly intense TPB for sure.It started with smiles and jokes between Alfred, Julia, and Bruce, and that should probably have clued me in that it was going to be intense.As with all the big stories in the Batman universe these days it is about the Joker. Batman vs. the Joker, and this time the Joker seems even more serious.It was an interesting TPB and one that I definitely got engrossed in. I do wish that the current Batman Universe didn't focus so much on the Joker and let some of the other big bads get some time though.I got this advanced galley through Netgalley on behalf of DC Entertainment
Review by rivkat
27/01/2016
The Joker returns for one last orgy of destruction, in which he attempts to take down all Gotham (and claims to be eternal). It's very hard to do a huge Batman/Joker confrontation in a world that also has The Killing Joke, but by the end, I thought this was a decent attempt to deal with their mirroring and death wishes—Joker's externalized, Batman's internalized. The creepiest moment: an entire hospital newborn ward filled with babies with the Joker virus.
Review by wyvernfriend
02/03/2016
The Joker infects some of the Justice League with a new nasty Joker virus and comes out of hiding to take Batman down, infecting a whole town with the virus. Batman is not sure how much he can do, still dealing with a lot of crap.Must admit to being a bit meh about it.