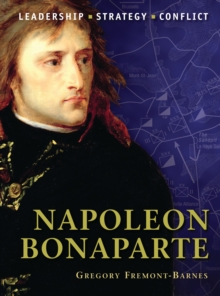 Napoleon Bonaparte
Paperback / softback
Part of the Command series
Description
Napoleon Bonaparte is renowned as one of the greatest military commanders in history, and the central figure in so many of the events of the French Revolutionary and Napoleonic wars.
Throughout the first decade of the 19th century he won battle after battle by wielding the Grande Armee decisively against the other powers of Europe - Prussia, Austria and Russia.
Yet his fortunes changed in 1812 when the invasion of Russia wrecked his forces, and Napoleon suffered his final defeat at Waterloo in 1815.
Information
Format: Paperback / softback
Pages: 64 pages, Illustrations (chiefly col.)
Publisher: Bloomsbury Publishing PLC
Publication Date: 10/05/2010
Category: Napoleonic Wars
ISBN: 9781846034589
Also by Gregory Fremont-Barnes | View all