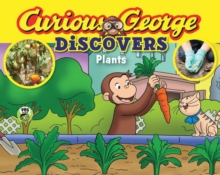 Curious George Discovers Plants
Paperback / softback
Description
The next adventure in the science-based Curious George Discovers series teaches readers all about gardening and what plants need to grow. George's friend Chef Pisghetti makes the most delicious vegetable soup!
When the chef is running low on fresh vegetables, George wants to lend a hand in the rooftop garden but he has a lot to learn about greenery.
Come along as George discovers all about gardening, plants, what makes them grow, and why they're important. Based on the Emmy-winning PBS show, this story is filled to the brim with facts, real photos, experiments, activities, and more.
Learning about science has never been so much fun! AGES: 4-7 AUTHOR: Hans Augusto Rey was born in Hamburg, Germany in 1898.
As a child, he spent much of his free time in that city's famous Hagenbeck Zoo drawing animals.
After serving in the army during World War I, he married Margret Rey and they moved to Montmartre for four years.
The manuscript for the first Curious George books was one of the few items the Reys carried with them on their bicycles when they escaped from Paris in 1940.
Eventually, they made their way to the United States, and Curious George was published in 1941.
Curious George has been published in numerous languages. And many, many Curious George books have followed.
Information
Format:Paperback / softback
Pages:32 pages
Publisher:Houghton Mifflin Harcourt Publishing Company
Publication Date:08/06/2016
Category:
ISBN:9780544651630