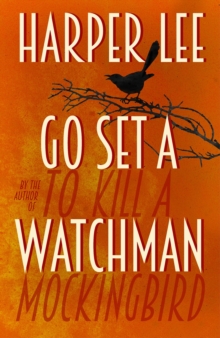 Go Set A Watchman
Hardback
Description
From Harper Lee comes a landmark new novel set two decades after her beloved Pulitzer Prize-winning masterpiece, To Kill a Mockingbird.
Maycomb, Alabama. Twenty-six-year-old Jean Louise Finch - 'Scout' - returns home from New York City to visit her ageing father, Atticus.
Set against the backdrop of the civil rights tensions and political turmoil that were transforming the South, Jean Louise's homecoming turns bittersweet when she learns disturbing truths about her close-knit family, the town and the people dearest to her.
Memories from her childhood flood back, and her values and assumptions are thrown into doubt.
Featuring many of the iconic characters from To Kill a Mockingbird, Go Set a Watchman perfectly captures a young woman, and a world, in painful yet necessary transition out of the illusions of the past - a journey that can be guided only by one's own conscience.
Written in the mid-1950s, Go Set a Watchman imparts a fuller, richer understanding and appreciation of Harper Lee. Here is an unforgettable novel of wisdom, humanity, passion, humour and effortless precision - a profoundly affecting work of art that is both wonderfully evocative of another era and relevant to our own times.
It not only confirms the enduring brilliance of To Kill a Mockingbird, but also serves as its essential companion, adding depth, context and new meaning to a classic.
Information
Format: Hardback
Pages: 320 pages
Publisher: Cornerstone
Publication Date: 14/07/2015
ISBN: 9781785150289
Other Formats
Paperback from £6.65
EPUB from £4.99
CD-Audio from £15.69
Free Home Delivery
on all orders
Pick up orders
from local bookshops
Reviews
Showing 1 - 5 of 5 reviews.
Review by elliepotten
27/08/2015
Okay, everyone needs to stop panicking now because this is really pretty damn good. It reads like the Harper Lee we loved in <i>To Kill a Mockingbird</i>, there are plenty of childhood shenanigans to enjoy, and the characters feel right. And yes, Atticus isn't as saintly - but that's the point. His racism is more nuanced than the clickbait reviews suggested (more along the lines of concern that his county's rural black community may not be ready to suddenly be promoted into government and law without more education, with Scout passionately arguing to help them get there instead of being afraid of change). The focus is far more on Jean Louise (like readers!) realising that her father is NOT perfect, he is good but still just a man, and learning to separate her own morals from his to become her own person. There are a few more dense or muddled segments that make the lack of editing obvious, but after a total reading slump I sailed through it in two days and thoroughly enjoyed returning to Maycomb for a second visit with a new perspective. Recommended!
Review by paulb
27/08/2015
Well worth reading, giving a valuable insight into the thought patterns and politics of race in the South during the 1950s.
Review by Robert3167
27/08/2015
They say timing is everything, in this case the timing of the publication of Go Set A Watchman (GSAW) influences our experience of the book fairly or unfairly. Written before To Kill A Mockingbird (TKAM) and set 20 years later, it is now being read years after. It is difficult to set aside our expectations of the novel from the reading of it. It cannot be read and evaluated in isolation.<p>Jean Louise Finch (Scout) is returning to Maycomb Junction for her fifth annual visit. She is now living in New York and her visits home are a mixture of the inevitable comparisons of the two places and the battle between her independence and the strong pull of the family to stay and look after Atticus. <p>These battles were never going to be resolved easily. "She was a person who, when confronted with an easy way out, always took the hard way". As Atticus pointed out to Jean's almost fiancé "Relax, son"…"Don't push her. Let her go at her own speed. Push her and every mule in the county'd be easier to live with". <p>This was a time of turbulence in the South. The Supreme Court had recently dissolved segregation in schools and the civil rights movement was burgeoning. This remained in the background for Jean until she discovered a segregationist pamphlet Atticus had been reading and followed him to a meeting of the Maycomb County Citizen's Council. The shock of seeing and hearing the abhorrent segregationist views of the guest speaker in the company of her father and her fiancé are too much for Jean. As Scout in TKAM we had viewed through her naive and hero worshiping eyes the upright straight as a die Atticus Finch defending the poor Negro against the baying hounds of the racist white town's people. Atticus embodied all that was good and right in both the law and the common decency. We now share Jean's shock in discovering that her father now has feet of clay and holds views Jean finds abhorrent. <p>"She never realised that what made her dig in her feet and stand firm whenever she did was her father; that whatever was decent and of good report in her character was put there by her father; she did not know that she worshiped him".<p>Jean's view of her father had not changed from the naive young Scout in TKAM; 20 years later confronting this totally new view completely at odds with her world view was traumatic. <br>As her uncle put it, "you confused your father with God. You never saw him as a man with a man's heart, and a man's failings"…"You were and emotional cripple, leaning on him, getting the answers from him, assuming that your answers would always be his answers". In GSAW Scout finally grows up and starts to confront and deal with difficult issues by staying and fighting, not running away.<p>I have to agree with Harper Lee's editor at the time who having read this manuscript told her to concentrate on the earlier life of Scout, for those chapters stand out in stark contrast to the chapters dealing with the older Scout, Jean Louise. They are warm, and have a charm and softness that the older Jean doesn't not have. <p>As it stands on its own it is an interesting book covering the early days of the civil rights movement and the start of that long, long battle. Read in conjunction with TKAM it gains from the reflected glory of the earlier classic. </P
Review by john257hopper
23/09/2015
It is quite hard to review this novel independently of the literary sensation represented by its discovery and publication. First off, while it is recognisable as the work of the same author as To Kill a Mockingbird, it clearly lacks the authorial skill and sheer readability of the established classic, and some passages are really dull. More significantly, as has been widely trailed, it seriously tarnishes the character of Atticus Finch that generations of people have come to respect and love as standing up for values of human decency and respectful treatment of one's fellow human beings in the face of violence and intimidation. While the final section to some extent attempts to provide a nuanced explanation for Atticus's change of attitude through a vigorous argument between him and Jean Louise, this was never more than marginally convincing to me and some of the dialogue sounded very implausible. Jean Louise on the other hand comes across very well, as a grown up version of the stubborn, determined, infuriating and loveable character from Mockingbird and this book is even more about her story. This was for me the book's only real redeeming feature and I am afraid to say I do think that this probably should not have been published - sometimes there are good reasons why "lost" novels were lost.
Review by jon1lambert
10/11/2015
I have not yet read To kill a mockingbird so I am not sure how disappointed I should be after reading Go set a watchman. Was it really written after To kill a mockingbird? it is good; it is interesting but there is nothing that grabbed my attention. I just kept feeling there was a void; there was something that was missing and that was the story that is recounted in To kill a mockingbird. The characters in Go set a watchman are wooden, they just represent viewpoints.