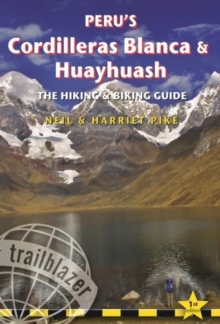 Peru's Cordilleras Blanca & Huayhuash - The Hiking & Biking Guide : Practical Guide with 50 Detailed Route Maps & Descriptions Covering 20 Hiking Trails & 30 Days of Paved & Dirt Road Cycle Touring
Paperback
Description
Andean adventure paradise As mountain adventure destinations, the Cordilleras Blanca and Huayhuash in central Peru are unrivalled in South America.
These ranges boast some of the most spectacular scenery in the Andes, and some of the most accessible high altitude trekking and cycling in the world.
Perfect pyramidal peaks, gargantuan ice falls and turquoise alpine lakes are all easily reached from Huaraz, the region's capital and centre of tourist comforts.
Trekking - 20 hiking trails Includes the classic treks: Huayhuash Circuit, Santa Cruz and Alpamayo Basecamp, as well as lesser known, wild walks in valleys which see few visitors.
Ranging from easy day hikes to challenging routes of 10 days or more, all can be trekked independently or in guided groups. Cycling - 30 days of paved and dirt road routes Includes a loop of Peru's highest mountain - the Huascaran Circuit - as well as four other multi-day rides and five day-cycles from Huaraz.
Covers all the information cyclists need to pedal past glaciers on 6000m peaks or fly down 2500m descents from high passes. Mountain biking - off road routes Includes two detailed downhill routes and information on organising guides to lead you through the labyrinth of exciting singletrack to be found in the area. Practical information - planning your trip and getting to Peru City and town guides and maps - Lima, Huaraz, Caraz, Carhuaz, Chavin, Chiquian, Pomabamba Minimum impact hiking and biking- how to hike and cycle lightly in a fragile region Language - Spanish words and phrases 50 detailed route maps - at 1:50,000 or 1:100,000 scale for main trekking maps
Information
Format: Paperback
Pages: 242 pages, 30 colour photos
Publisher: Trailblazer Publications
Publication Date: 28/01/2015
Category: Cycling
ISBN: 9781905864638
Save 41%
Free Home Delivery
on all orders
Pick up orders
from local bookshops