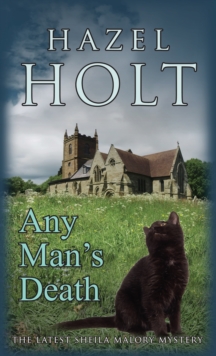 Description
The village of Mere Barton is facing a time of upheaval, with traditional rural lifestyles being forced out by the demands of newcomers in search of a countryside idyll.
When local author Sheila Malory is asked to research the history of the village, she has her reservations; 'The Book' is one of the many projects of Annie Roberts.
Miserly and controlling, Annie is at the heart of everything that goes on in Mere Barton, much to the resentment of her fellow villagers.
Indeed, it seems that hardly anyone - not even the local rector - has a good word to say about her.
When Annie suffers a fatal bout of self-inflicted food poisoning, there is more relief than grief around the village.
However, as Sheila continues to work on the local history, she discovers that Annie's influence was due to more than just her forceful personality.
Was the death as accidental as it first seemed? And which of Annie's adversaries had the most compelling motive?
An intriguing mystery containing a tangled web of guilt and deceit, "Any Man's Death" will enthral armchair detectives everywhere.
Information
Format: Hardback
Pages: 288 pages
Publisher: Allison & Busby
Publication Date: 26/10/2009
Category: Crime & mystery
ISBN: 9780749007089
Other Formats
Paperback from £5.95
EPUB from £5.60
Free Home Delivery
on all orders
Pick up orders
from local bookshops
Reviews
Showing 1 - 1 of 1 reviews.
Review by redfiona
16/06/2015
There's a very strange feel to this novel. It's almost like it can't decide what it wants to be, a sort of cosy, chummy murder mystery like Midsommer Murders, or something more along the lines of a psychological murder mystery. I think that in the hands of an author who wrote more clearly, this is a mixture that could work well, but this is not that author. It took me until about chapter four to figure out who was narrating, and who said what frequently confused me.The behaviour of the characters also didn't sit well with what we knew of them. Characters who had been blackmailed and had managed to keep their secrets from everyone but the blackmailer were suddenly blabbing about them to the investigating character, which shows an awful lot of trust, the reason for which is never explained.I think the book just doesn't quite work.