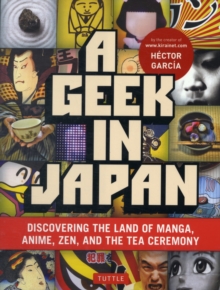 A Geek in Japan : Discovering the Land of Manga, Anime, ZEN, and the Tea Ceremony
Paperback
Description
For every fan of manga, anime, J-pop, or Zen, A Geek in Japan is a hip, smart and concise guide to the land that is their source.Comprehensive and well informed, it covers a wide array of topics in short articles accompanied by sidebars and numerous photographs, providing a lively digest of the society and culture of Japan.
Designed to appeal to the generations of Westerners who grew up on Pokemon, manga and video games, A Geek in Japan reinvents the culture guide for readers in the Internet age.Spotlighting the originality and creativity of the Japanese, debunking myths about them, and answering nagging questions like why they're so fond of robots, author Hector Garcia has created the perfect book for the growing ranks of Japanophiles in this inspired, insightful and highly informative guide.
Information
Format: Paperback
Pages: 160 pages, more than 300 colour photographs; 3 tables; and 12 maps
Publisher: Tuttle Shokai Inc
Publication Date: 03/06/2011
Category: Travel writing
ISBN: 9784805311295
Free Home Delivery
on all orders
Pick up orders
from local bookshops
Reviews
Showing 1 - 1 of 1 reviews.
Review by birdsam0610
16/06/2015
A Geek in Japan is one of those books I saw on the shelf at my local bookstore and just had to have. I love Japan and I love to learn more about it. A Geek in Japan is deceiving though, in that it contains much more information than you think at first glance. Hector Garcia has obviously put a lot of time and effort into researching this book, which delves into many aspects of Japan. It includes history, social structures (I learned more from this book than I did from six years of Japanese), culture, work life, leisure, anime, cosplay, vending machines, zen, Shinto, Buddhism, temples, shrines and walking tours of various places in Tokyo.What I found very interesting was that according to Hector, the Japanese wish for harmony as a whole over triumph of the individual – which is very different to what occurs in the West. It was also interesting to see repetition given as a way of learning – if you do something hundreds of times, you will end up getting it right. The work structures were also very interesting – the consultation between many levels with the focus on precision. If I wasn't a gaijin, I think I'd like this!Hector explains things very clearly in the majority of circumstances but occasionally the English sounded a little 'off' to me (for example, a lot of use of the word 'moreover'). This is a small thing to get used to.I learnt so much from this book, more than I did over a long period of study and a long trip to Japan. It clarified a lot of things for me. Well done on a great book – this would certainly be of use to those going to Japan or just wanting to know more about it. The pictures are excellent too.
Also by Hector Garcia