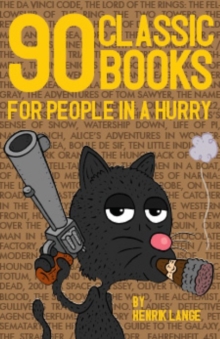 90 Classic Books for People in a Hurry
Paperback
Description
This book is about the greatest books in the world.
All of them culty classics and books you have to have read.
If you haven't, now's your chance to read them all at once.
If you have you can read them again and see what you remember.
In four illustrated squares we give you the entire story, a sort of distilled novel, so you can read 80 books in a couple of hours.
It is great for people in a hurry or just anyone who likes books.
Information
Format: Paperback
Pages: 150 pages, 1
Publisher: Nicotext AB
Publication Date: 11/09/2008
Category: Humour
ISBN: 9789185869299
Free Home Delivery
on all orders
Pick up orders
from local bookshops
Reviews
Showing 1 - 5 of 6 reviews.
Previous | Next
Review by yarkan
16/06/2015
In three panels, they summarize the whole story. I'd just listened to Tom Sawyer on tape and it was interesting to see what they boiled it down to. Probably it is more fun if you know the books already. I'd like to try this approach for other things.
Review by greeniezona
16/06/2015
I checked this book out on a lark because, really? Look at the cover. The premise is that Lange will sum up for you 90 classic books you should have read. (And really, don't read this if you don't like spoilers. Of course.) In comic form. Each book gets one page, four frames. And for most? The title is the only thing in the first frame, leaving only <i>three</i> frames to tell the story. It's really pretty amazing he gets anything done at all.<br/><br/>But the premise is false. This is not a book for people who don't read books. (Unless, I suppose, you're trying to fake being a reader, but even in that case, this won't get you far.) This is a book for readers. Almost without fail, I found the entries for books I'd read, or at least was very familiar with the author, far more interesting and amusing than those I hadn't. And as this work is fairly cynical, I especially enjoyed the treatment of books I didn't like (<i>One Hundred Years of Solitude! The Stranger!</i>), or books I liked but have issues with (<i>The Bible!</i> Bukowski! (ok, seriously, I can't believe I just paired those two for any reason.) "Of Mice and Men!")<br/><br/>I liked it, but would have like it a lot more had I actually read all of the books. And felt more snarky about more of them.
Review by ThothJ
27/01/2016
Very funny. Loved the drawings!
Review by ThothJ
27/01/2016
Very funny. Loved the drawings!
Review by ThothJ
27/01/2016
Very funny. Loved the drawings!