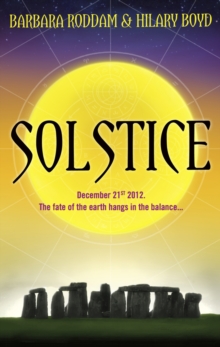 Description
21st December 2012 was not only the date on which the Mayan calendar ended.
In astrological terms the Solstice, at exactly 11.12 am that day, was also the moment when the sun was aligned with the centre of the Milky Way for the first time in 26,000 years.
A moment at which the sun's energy streamed towards Earth, focused precisely on Stonehenge.
Solstice follows the stories of seven characters, three women and four men, who are initially unaware of their mystical powers or of their past lives in the legendary city of Atlantis.
They must come together to perform a vital ceremony at Stonehenge to rebalance the planet. 21st December 2012 is the only date for thousands of years when it can take place successfully.
It's a race against time and a terrifying adversary from their shared past.
Beneath the gripping, fast-paced story Hilary Boyd and Barbara Roddam deliver a serious parable for our times.
Solstice explores the unequal balance between male and female energy - the Sun and Moon energy that Stonehenge was built to honour equally - that pervades our time.
Men dominate the world, women are oppressed, technology (male energy) is supreme and our planet is violent and failing.
New Age wisdom holds that only a rebalancing of these energies can save us.
Information
Format: Paperback
Pages: 384 pages
Publisher: Cornerstone
Publication Date: 21/06/2013
Category: Religious & spiritual fiction
ISBN: 9781908717801
Free Home Delivery
on all orders
Pick up orders
from local bookshops