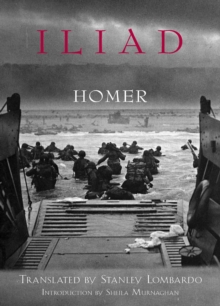 Description
Gripping. . . . Lombardo's achievement is all the more striking when you consider the difficulties of his task. . . . [He] manages to be respectful of Homer's dire spirit while providing on nearly every page some wonderfully fresh refashioning of his Greek.
The result is a vivid and disarmingly hardbitten reworking of a great classic. --Daniel Mendelsohn, The New York Times Book Review
Information
Format: Paperback
Pages: 574 pages, 1M.
Publisher: Hackett Publishing Co, Inc
Publication Date: 12/03/1997
Category: Poetry by individual poets
ISBN: 9780872203525
Other Formats
Paperback from £2.50
Hardback from £9.69
CD-Audio from £13.05
Free Home Delivery
on all orders
Pick up orders
from local bookshops
Reviews
Showing 1 - 5 of 6 reviews.
Previous | Next
Review by wildbill
16/06/2015
The Iliad translated by Stanley LombardoThis translation of the Iliad uses language that is forceful and earthy and departs from the classical niceties of some of the other translations. It is surely a translation that is written to be read aloud to appreciate the impact of the language. Homer wrote a story about the most basic and violent human emotions. It contains graphic depictions of violent death and slaughter. Lombardo portrays this story with language that grabs you by the gut and boils the blood. I strongly recommend this translation. I don't know if it is the best, I am no scholar. I do think it is important in understanding and feeling the emotional impact of this classic poem.
Review by StefanY
16/06/2015
The Grand-Daddy of all epic tales!I had never read the Iliad before now, and since it was assigned to me in my current college course, I really had no choice but to embrace it. What a great read! I knew most of the storyline of course through general knowledge of mythology and Greek legend and also (though I cringe a little to say it) from the film, Troy. If you haven't read the Iliad and fancy yourself a fan of legend or fantasy novels, I would highly recommend it. For those out there who aren't purists and want a version that is very easily read and understood, I would stick to the Stanley Lombardo translation over all others. Lombardo has a way of translating the text in such a way that uses more modern language and terms and makes the text much easier to follow than most other translations of older texts that I have attempted to read.As for the story itself, it is filled with action, adventure, war, love, the meddling and politics of the Gods themselves and a great deal more. Achilles is the star of the show so to speak, but I found myself rooting more for Patroclus, Hector and several others as I read through the text. There are a score of likable and detestable characters that all stand out in their own way. Truly a fun read and one that I wish that I had read earlier as I'm sure that it gets better upon subsequent readings.
Review by SicilianEsq
16/06/2015
With a plethora of themes to focus on, two struck and stuck with me throughout this piece: 1) Truly, the Victors of the war wrote this account. Almost never was a smile far from my face as I found Homer bestowing glory unto the Greeks, and shame unto the Trojans. The Greeks always seemed to retreat in better thought haste, while the Trojans retreated cowardly, to flee the might of the Greeks. [i.e Ajax retreating from Hector momentarily versus any retreat of Hector's] 2) Fate robs men of freedom. After the work, I read the preface, where Sheila Murnaghan makes an interesting argument: "It is important to recognize... that divine intervention is almost always in harmony with the preexisting qualities and instincts of of those human characters. Divine favor may make possible displays of heroic excellence, but it is also a response to that excellence; in an unbreakable circular logic, men are heroic because the gods help them, and the gods help them because they are heroic." Introduction, xxvi. Whenever a character seemed to become more personal to me, I was disturbed that he knew of his fate, yet marched headlong into it. I understand Ms. Murnaghan's position, and it is a valiant attempt to import freedom into the work, but i feel it is flawed. This era looked to the heavens for reasons why an event occurred, and although we still do this today [i.e. God was with me when...], my culture recognizes and celebrates autonomy.As similar as we still are to our brethren of old, as shown in how the recording of history is slanted in favor of the triumphant, so too have we evolved in our perceptions of self worth and self recognition.
Review by Judith_Starkston
16/06/2015
This is an excellent translation of The Iliad. It closely reflects the original Greek and yet reads quickly and engagingly unlike other close translations. It was originally done as a radio play, so the oral nature of the poem is beautifully maintained. You will find some anachronistic language choices because Lombardo (as the cover photo indicates) draws a parallel between WWII and the Iliad. I find that while the word choice may indicate something too modern, it usually captures the tone of what's in the original once you allow for the period difference. This is the best translation for an enjoyable read through Homer. I used it for years with my honors high school students to great effect.
Review by Kassilem
16/06/2015
I remember when I was around fourteen or fifteen years old I decided I wanted to read the Iliad. I went to the public library and asked for it (they had to pull it out of their back room for me). And I remember opening the first page and seeing that it was in poem format. I was immediately put off. I had never liked poetry and at my age the few pages I did try to read went over my small head. Ever since I knew some day I would come back to the epic poem. This semester was the year in my literature class. I love literature and I love this class because it is finally getting me to pick up and read the epic stories that I have always wanted to read. I've read excerpts here and there and seen online summaries. I've even read a few children's books renditions. But nothing compares to the actual poem itself. This was my first read of the poem as a whole. Now my professor doesn't like how Lombardo has translated the epic, and says that it is too 'dumbed down' now. I can see where she is coming from because some phrases that Lombardo includes certainly takes away the image of the elegant language this would have been first told in. It did however give me a simple and very understandable rendition of the events to the epic. However, now I want to find another translation that doesn't do this. I want something that seems more authentic to the time period. I think it's a good translation for someone who hasn't come across the classical language in the time of the Greeks and Romans, but for those who have, it may not be exactly what you're looking for. (Above it says: Lombardo attempts to adapt the text to the needs of readers rather than the listeners for whom the work was originally intended.' Does that say something about the needs of readers now-a-days?) The other complaint I have is that in this translation, some Books are left out of the whole poem. I believe this is because the books included are the most important one when dealing with turning events in the epic, but there's bound to be some information that is lost that way. Anyways, I'm glad I finally got to the epic. It's a fantastic myth! Now I want a more complete translation. :) I'm going to go find an audio book translation, because really this epic was meant to be listened to, not read :)