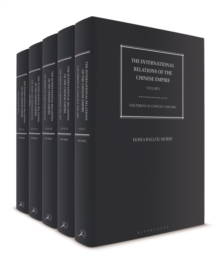 International Relations of the Chinese Empire
Multiple copy pack
Description
Originally published between 1908 and 1918, this five-volume set offers an unparalleled account of trade and economic life in China in the nineteenth century from a Western perspective. The first three volumes of analyse the history of China's relations with the West between 1834 and 1911.
Key issues include the increase in foreign control over China and the attempts of the Chinese government to respond, the rise of Japan in Asia, and the final demise of the Qing Empire.
Volume 4 (Trade and Administration of China) and Volume 5 (The Gilds of China) provide a first-hand account of the workings of the Chinese economy.
Coverage includes the central and provincial government of the Qing Empire, the fiscal position of the Chinese state, international trade, the position of foreigners in China's economy, opium imports, the Inspectorate of Customs, the railways, and an examination of the guild system that underpinned the organization of commerce in China. With a new introduction by leading scholar, Michael Dillon, the set is essential reading for anyone seeking to understand economic and political relations between China and the West in the second half of the 19th century.
Information
Format: Multiple copy pack
Pages: 148 bw illus
Publisher: Bloomsbury Publishing PLC
Publication Date: 30/01/2020
Category: Asian history
ISBN: 9781784531331
Other Formats
Paperback / softback from £10.57
Hardback from £23.95