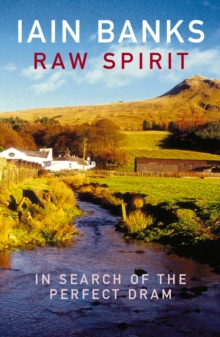 Description
As a native of Scotland, bestselling author Iain Banks has decided to undertake a tour of the distilleries of his homeland in a bid to uncover the unique spirit of the single malt.
Visiting some of the world's most famous distilleries and also some of its smallest and most obscure ones, Banks embarks on a journey of discovery which educates him about the places, people and products surrounding the centuries-old tradition of whisky production.
Using various modes of transport - ferries to the islands, cars across the highlands, even bicycles between bus stops - Banks' tour of Scotland combines history, literature and landscape in an entertaining and informative account of an exploration in which the arrival is by no means the most important part of the journey.
Information
Format: Paperback
Pages: 384 pages
Publisher: Cornerstone
Publication Date: 05/08/2004
Category: Spirits & cocktails
ISBN: 9780099460275
Free Home Delivery
on all orders
Pick up orders
from local bookshops
Reviews
Showing 1 - 5 of 7 reviews.
Previous | Next
Review by tripleblessings
16/06/2015
An unusual book: a combination of travelogue, memoir and scotch whisky guide, not entirely successful as any of those. The author includes political rants (anti-George Bush, anti Tony Blair, anti war in Iraq), reviews of various sports cars (Porsche 911, LandRover, Jaguar...), reviews of many Scottish roads that are fun to drive, reviews of the distilleries he visits, and reviews of the malt whiskies themselves. There are also anecdotes from his past, references to his friends and his books, and many other snippets, some quite funny, some obscure digressions.If you have lived in Scotland, if you are a connoisseur of single malt Scotch, if you are a fan of Banks' novels, then the book offers something for you. But the book has so many different angles, it risks boring people some of the time, and pleasing nobody entirely. It wasn't as interesting as I had hoped, though I have visited many of the places Banks mentions, and have enjoyed his books. For me there was too much about roads, cars, and scotch, not enough about people and places. My husband, the malt-drinking Scotsman, enjoyed it more.
Review by r.orrison
16/06/2015
Iain Banks admits that he was commissioned to write this book, paid to drive around Scotland and sample the great variety of single malt whiskys that are available, which is probably why it comes off a bit like a 366 page advertisement. But don't let that put you off: Banks is a Scotsman, and he loves his country, and he shares that love with the reader. The focus of the book is whisky, but the rich background that fills out the book is the stories of the distillaries, and the people that built and run them, and the communities that they are part of. This is an enjoyable read for anyone who likes travel writing. You may even find yourself hankering for a wee dram when you're done. (I did; I didn't like it. Somehow I feel like I've let him down.)
Review by lightparade
16/06/2015
Well, it's a romp, isn't it. But, Iain, an index would have been nice, as I bring home a bottle of this or that, read it up in Michael Jackson, then think "what did Mr Banks have to say about it". Well, I don't have twenty minutes to spare to find it... Sorry, I know this isn't a dry old reference book, but we could all have been helped on the journey a little more than we are!End of whinge. Actually, IMB sounds like cracking company.
Review by duhrer
16/06/2015
I don't usually read non-fiction for pleasure, but "Raw Spirit" is not only one of my favorite non-fiction books, but one of the best books I've read in a long time, period.The book is as much an autobiography as anything else, as in the process of exploring all things whiskey, Banks shares little gems about so many other topics. The book is littered with observations about Scotland, driving, Science Fiction, and the start of the war we still find ourselves dealing with over five years later. Think of it as a whiskey-themed stream of consciousness with notes of politics and storytelling. Scotland itself is the most important component, just as the water that feeds a distillery determines the character of the whiskey produced.I look forward to reading more from Banks very soon. I borrowed "Raw Spirit" from the Stornoway library, so I also look forward to picking up my own copy of this book, as I expect it will be a well-thumbed reference as we explore Scotland in the next few years
Review by reading_fox
16/06/2015
This isn't what it proclaims to be, but that's not necessarily a bad thing. It's not a drinking book, it's only loosely about whisky*, there is a lot of driving in it, and descriptions of Scottish roads. Mostly it reads as an almost detailed autobiography. I'd really only recommend this for people who are already a fan of Iain, like whisky, drive, and have some knowledge of Scotland's geography and it's roads. The only one of these I fulfil is liking whisky, and I wasn't that impressed. It remains readable, but not exciting.Iain Banks is, for those who don't know him already, a prolific and richly successful fiction and SF author. As such, being rich begets further riches, he has been invited by his publishers to try a non-fiction title - finding "the perfect dram" of single malt whisky. And they're paying. He must lead such a hard life. This involves Iain learning a bit about how whisky is made (most of which he probably already knew), and travelling around to many of Scotland's 100 odd distilleries to try various "expressions" as they are known - particular bottlings unique in age and sometimes cask. Rather than bore the reader with an endless list of distilleries and their minor differences, or even a description of the various whisky flavours - and wine connoiseurs have a lot of ground to catch up on, in the silly description stakes - Iain mostly bores the reader with a list of roads in Scotland, and why he finds them more interesting than other roads. Interspersed with this, and prompted by memories of the geography he's lived around for most of his life, are incidents and anecdotes, along with a few personal rants and thoughts about politics and society. These are often interesting and will be particularly appreciated by fans of his work. Many include details of how and why specific parts if his books were included. I've only read some of his SF work and found it very lacking in almost everything. Some of these excerpts have almost enticed me to try some of his 'straight' fiction. Iain can certainly write in an engaging manner when he chooses to, and I'm still mystified why he didn't do so with his SF work. For the record, Iain's final choice was - well probably an Islay, or at least an Island, made in a distillery that does it's own floor malting, with some form of decent heritage, would be ab good place to start. If push came to shove he'd pick Glenfiddich's 21yr Gran Reserva, which is none of the above, and also a surprisingly mainstream choice. Whisky is that subjective, you just have to try and find your own. * whiskEy covers both Bourbon and Irish drinks, the Scottish Single Malt Whisky is made solely from barley, and the product of just one distillery.