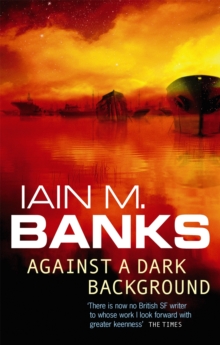 Against a Dark Background
Paperback
Description
Sharrow was once the leader of a personality-attuned combat team in one of the sporadic little commercial wars in the civilisation based around the planet Golter.
Now she is hunted by the Huhsz, a religious cult which believes that she is the last obstacle before the faith's apotheosis, and her only hope of escape is to find the last of the apocalyptically powerful Lazy Guns before the Huhsz find her.Her journey through the exotic Golterian system is a destructive and savage odyssey into her past, and that of her family and of the system itself.
Information
Format: Paperback
Pages: 496 pages
Publisher: Little, Brown Book Group
Publication Date: 04/01/1994
Category: Science fiction
ISBN: 9781857231793
Free Home Delivery
on all orders
Pick up orders
from local bookshops
Reviews
Showing 1 - 5 of 9 reviews.
Previous | Next
Review by imyril
16/06/2015
Ironically, not as dark as I recall, which I think probably goes to show how dark modern fiction can be. However, this remains a nasty tale of family feuding and religious war against a backdrop of petty-minded galactic commercial interest. Peppered with throwaway references to technologies and political structures that will never be explored, this is a journey into the shadowy past of heroine Sharrow's memory as she seeks the fabled artefact that will protect her from the Huhsz. More whimsical than much of the Culture novels, it's unclear whether this may be some pre-Contact civilisation sufficiently trapped in its own backwater to be left alone. I enjoy this, although your mileage may vary - the structure of interlaced past/present can be confusing; the descriptions re overpowering; the characters wobble between caricature (Zefla - really? Geis - really?!) and variably likeable (Sharrow herself - perhaps best described as having poor impulse control and a vindictive streak); and the climax is... well, both a bit silly and rather heavy on Basil Exposition from all sides.
Review by Anome
16/06/2015
This is supposed to be a novel Banks wrote while still quite young, later published after the success of his other Science Fiction. Sad to say, it really shows. There are some clever ideas in here, but he hasn't really got the hang of it yet.
Review by djfoobarmatt
16/06/2015
I'm starting to cotton onto Iain Banks' morbid sense of humor. It must entertain him to create characters that you like and then kill them off. And then to have the hero of the book as someone quite unlikeable.I found this book thought provoking, heart breaking in places, hilarious, well observed and gripping.
Review by Frozeninja
16/06/2015
This was the second of Banks' novels that I read, with the first being "Consider Phleblas" which I thoroughly enjoyed. That said I came to this book with high hopes, and for the most part they were thoroughly fulfilled. I was hooked from the first six pages by the rather horrifying and gripping prologue and from then on the book never lost my attention. It's the story of Sharrow, a rather whimsical woman who was the leader of an 8-man squad back in the much alluded to but never explained war. After the war ended she made her way with what was left of her squad, until several years later when they all went separate ways. Now she is hunted and tries to reuntie her squad to help her find the last "Lazy Gun", which she can exchange for her life. The Lazy Gun's being 8 intensely powerful weapons that for one reason or another had disappeared over the millenia until only one remained.The story is told in the present, though there are flashbacks throughout the book which help to show the characters in another light, before the horrors that they faced at the end of the war. Overall I enjoyed this book, though I wasn't a huge fan of the ending, but that was only a slight niggle with what was a solid read.
Review by duhrer
16/06/2015
"Against a Dark Background" is the first of Iain M. Banks' novels I've read that is not set in the "Culture" universe. If nothing else, he easily demonstrates that he doesn't need to fall back on the established conventions from those novels to spin a good yarn. This is a book with invention and narrative detail to burn. Ideas that would have been the central premise of a science fiction novel written in the 1950s are tossed around like confetti.As the title suggests, this is a darker work than "Player of Games" or "State of the Art" (I'd say it's on par with "Use of Weapons"). Sharrow, the central character is haunted and hunted by her past, and pursues her destiny as everything and everyone she loves is methodically stripped from her. In this sense, it is a punishing novel, establishing a raft of characters at length only to make their absence that much more painful.The culture in which she and her team travel is space-faring and has progressed to peaks of scientific achievement and then descended into relative savagery. The star system in which the story is set has been shaped by conflict bred of isolation, similar to "The Mote in God's Eye". There is advanced science left over from earlier ages, which includes the "Lazy Gun", the MacGuffin for this particular journey. The "Lazy Gun" is a weapon that is almost cartoonish in its effects, I'm surprised the author stopped short of having it drop anvils on its victims. This makes a nice change from the usual doomsday device, all deus and machina, with very little humor.I finally found a copy of "Trillion Year Spree", the sweeping history of Science Fiction by Brian Aldiss, and even in the first few pages, it's provided some relevant insights regarding gothic novels as the forerunners of Science Fiction novels: "Other planets make ideal settings for brooding landscapes, isolated castles, dismal towns, and mysterious alien figures; often, indeed, the villians may be monks, exploiting a local population under the guise of religion." -- "Trillion Year Spree" by Brian Aldiss (with David Wingrove)This is indeed a gothic novel, full of moody environs, steeped in protracted mysteries and eventual revelations. On that level, it's straightforward enough, and in fact just a little disappointingly so. Where the novel really shines are in the details, the set pieces established along the way. Parts of the novel, such as the boat heist, the android city, and the train heist are compelling and enjoyable. The overarching plot is just the excuse the author gives himself to progress from set piece to set piece. I would urge anyone who enjoys compelling ideas and descriptive detail to just enjoy the individual squares in the quilt, and not to think too much about the overall design.