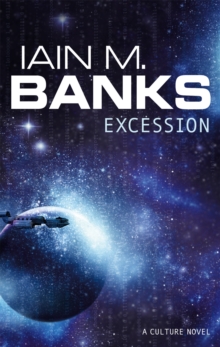 Description
Two and a half millennia ago, the artifact appeared in a remote corner of space, beside a trillion-year-old dying sun from a different universe.
It was a perfect black-body sphere, and it did nothing.
Then it disappeared. Now it is back.'Banks is a phenomenon ... wildly successful, fearlessly creative' William Gibson'Thrilling, affecting and comic ... probably the finest science fiction he has written to date' New Scientist'Banks has rewritten the libretto for the whole space-opera genre' The Times
Information
Format: Paperback
Pages: 464 pages
Publisher: Little, Brown Book Group
Publication Date: 15/05/1997
Category: Science fiction
ISBN: 9781857234572
Free Home Delivery
on all orders
Pick up orders
from local bookshops
Reviews
Showing 1 - 5 of 14 reviews.
Previous | Next
Review by selfnoise
16/06/2015
Banks keeps some of his "character-study-inside-space-opera" method going with this Culture novel, but it's headier and more concept-driven than his previous novels. I'm not sure I believe in his particular conception of AI and it isn't QUITE as good as the first 3 or so, but it's an enjoyable read and definitely should be on your list if you like the Culture novels.
Review by imyril
16/06/2015
I have a different response to this Culture novel every time I read it, and I think this time I can put my finger on why: I just don't enjoy the human characters at all. However, if you can put the vapid, self-absorbed and slow-moving human plotlines aside, there's a tremendous slice of space opera in which we finally get under the skin of not only Special Circumstances but the Minds themselves - comms, ethics, conspiracies, politics, poetry, egos, consciences - as they come to terms with an Outside Context Problem that may be the biggest opportunity the Culture (and every other Involved in the galaxy) has ever had, or the biggest threat they will ever face.
Review by kryptikrayg
16/06/2015
My mind well and truly bent,ribs tickled,stomach churned and spine tingled.Like,pharmaceutical grade literature,man.
Review by xnfec
16/06/2015
I love Banks's creation, the Culture. When I read this book, it was the first book of his that I had read. I found it difficult to follow, but at the same time I fell in love with the ships. It is the one book of his that I feel I would re-read
Review by rufty
16/06/2015
A culture novel. A post scarcity society - so always interesting there.The idea in this novel is that an excession event is one where a society comes across something so advanced, so far outside it's experience that it is destroyed by it. An example given is that tribespeople experience an excession event when European visitors turn up on your island and come and introduce you to things like Christianity and taxation and smallpox.The culture believes it has spotted a galleon homing into view and is understandably concerned.It's great, read it.