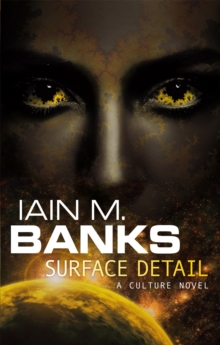 Description
It begins in the realm of the Real, where matter still matters.Lededje Y'breq is one of the Intagliated, her marked body bearing witness to a family shame, her life belonging to a man whose lust for power is without limit. Prepared to risk everything for her freedom, her release, when it comes, is at a price, and to put things right she will need the help of the Culture.It begins in the realm of the Real.
It begins with a murder.And it will not end until the Culture has gone to war with death itself.
Information
Format: Paperback
Pages: 640 pages
Publisher: Little, Brown Book Group
Publication Date: 01/05/2011
Category: Science fiction
ISBN: 9781841498959
Free Home Delivery
on all orders
Pick up orders
from local bookshops
Reviews
Showing 1 - 2 of 2 reviews.
Review by paulmorriss
16/06/2015
This is one of Ian M Banks' "Culture" novels, so expect a large backdrop in space and exploration of some interesting ideas about the future. It also has several interesting characters. Some of them die early on, but in this part of space and time this doesn't mean that it's the end of the story as far as they are concerned. There are several plot lines involving each of those characters, but they do all converge by the end. Although the plot is expansive things really do depend on the actions of a small number of people. Very enjoyable.
Review by TarsolyGer
16/06/2015
I have found this book really disappointing. I was a huge fan of Use of Weapons and I had liked to read The Player of Games, and it was intriguing to read The Wasp Factory.This novel lacks the quality that made those former books valuable. In my opinion, Banks' strength lies in forming his characters, showing their feelings, inner motivations, fears, etc. The storyline was only to serve as the environment where these characters move.I had read Look to Windward too, and that was the first disappointment. The characters were strong, but the focus was on the - quite predictable - storyline which only served to enforce the proverb "Do not fuck with the Culture".Unfortunately Surface Detail moves towards that direction. The story is simpler, the characters are shallow. The ending is a disaster: the last 4 pages summarizes the events that happened after the 600+ pages of the books, and the 3-page-epilogue is like the author have realised that there were only moderate twists in the story, so he gives us a revelation about a character that is supposed to be striking but unfortunately I couldn't care less, as that character was nothing special.Otherwise, I can only recommend this novel to those who just want to read something light for a longer period that is not boring, the pace of action is good enough.Oh, and don't fuck with the Culture.