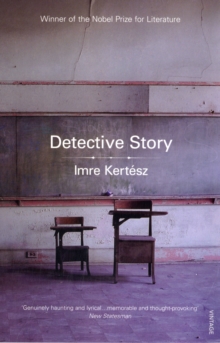 Detective Story
Paperback
Description
Antonio Martens is a torturer for the secret police of a recently defunct dictatorship.
Now imprisoned, he begins to recount his involvement in the surveillance, torture and assassination of Federigo and Enrique Salinas, a prominent father and son whose principled but passive opposition to the regime left them vulnerable to the secret police.
Preying upon the young boy's aimless life, the secret police began to position him as a subversive element, before they turned their attentions to his father.
Once the plan was set into motion, any means were justified to reach the regime's chosen end...
Information
Format: Paperback
Pages: 128 pages
Publisher: Vintage Publishing
Publication Date: 01/01/2009
ISBN: 9780099523390
Other Formats
Paperback from £6.65
Hardback from £9.45
EPUB from £3.99
Free Home Delivery
on all orders
Pick up orders
from local bookshops
Reviews
Showing 1 - 1 of 1 reviews.
Review by clfisha
16/06/2015
Chilling novella of barbaric bureaucracyA prisoners story. The last protest of a condemned man is to tell his version of events, to let the world understand what led him to a cell. It is the story of the Salinas family, an infamous case that rocked the unnamed totalitarian state and this story is one of a"regular" policeman who was just doing his job.Chilling and detached. This is a story full of mist, with acts happening off screen. Culpable deniability and throw away statements that leave you to shudder. Martens story is partly one of fate, of Kafkaesque bureaucracy that lets evil in and turns a blind eye. It is a horror of errors (nothing comedic about it), a comment on the evil humanity will stoop to. It is an intriguing detective story in which no one can win and is full of reliability. It is also a mini exploration of blame, Martens is the scapegoat after all, low ranking officer whose superiors have escaped. <i> "Our records had already identified that Enrique was going to perpetuate something sooner or later. As far as we were concerned, his fate was sealed, even if he himself had not yet made up his mind." </i>It is not in any way gratuitous, something that enhances the horror in throw away lines. In references to chummy chats between the interrogations, the dead pan descriptions of mechanics of building a case and of diary excerpts from dead men. Written in 1977 by Novel prize winner Kertesz it feels in a way timeless (if you ignore the technology), it may not be the his most famous book but it certainly packs a punch.If this sort of thing is your bag, recommended.