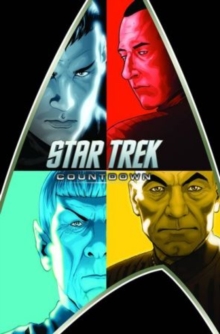 Star Trek : Countdown (The Movie Prequel)
Paperback
Description
Space: the final frontier. These are the voyages of the Starship Enterprise...as you've never seen them before! "Star Trek: Countdown" is the official prequel to the smash-hit movie, outlining the history of Nero, the movie's villain (played by Eric Bana).
Who is this mysterious Romulan, and how did he turn from hero to villain?
Also featuring Captain Picard and many of the Next Generation stars, this is essential reading for "Star Trek" fans!
JJ Abrams, the film's director, along with scriptwriters Roberto Orci and Alex Kurtzman have supervised the script by Tim Jones and Mike Johnson, illustrated by David Messina ("Angel"), to make the ultimate prequel for the ultimate reimagining of "Star Trek".
Information
Format: Paperback
Pages: 104 pages, colour comic strip
Publisher: Titan Books Ltd
Publication Date: 01/05/2009
Category: Space opera
ISBN: 9781848564350
Free Home Delivery
on all orders
Pick up orders
from local bookshops
Reviews
Showing 1 - 1 of 1 reviews.
Review by TPauSilver
16/06/2015
I'll give this book credit, I did make me laugh out loud. Problem was, it didn't intend to. This book acts as a prequel to the new movie, giving more depth to the chracter of Nero. It reads, however, more like "what were the TNG cast doing when time was reset" then anything else. We get a slow procession of Data, Picard, Geordi and then Worf showing up to save the day. This singularity that wipes out Romulan is unfesably powerful, the Vulcans decide to be petty and childish so the Romulans die and Vero blames Spock despite being present for most of the events and seeing that Spock is doing his best. He also keeps going around stabbing other romulans, not productive when most of your civilisation has just been wiped out. There are three worthwile things I learned from reading this: 1. The reason a mining ship has so much kickass technology is they went to a secret starbase and git given top secret weapons, which is also why they so amazingly outpowered all the old ships (which, in a group, should still have been stronger then one mining ship from the future). 2. Data is alive! I was shocked and confused. Luckily, it seems they remembered to back him up and just installed him on his spare. It's good to know that main characters don't really die. 3. After Spock and Nero had vanished of back in time the Enterprise was still loitering around in space, which means original continuity is still running if anyone cares to play with it again, which is a bit nicer then the kick in the teeth of "everything that's gone before this was a lie, we're starting again!".