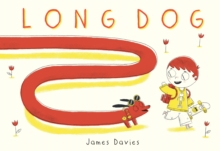 Description
This is Long Dog. He's not skinny, or tall, or scruffy - he's long and we like it that way.
Well at least I do anyway. Mum and Dad aren't so sure. Especially when Long Dog gets stuck in the cat flap, or in the drain pipe, or in a tree... he can be a bit weird sometimes. James and Long Dog are inseparable. Long Dog may be weird, but James doesn't see it that way - he just sees his best ever friend.
Being long is awesome, even if nobody else thinks so.
It means spaghetti hugs and extra long walks. But what happens when long dog gets himself in a twist?
A hilarious picture book about unbreakable friendships and fitting in, by James Davies.
Information
Format: Paperback
Pages: 40 pages, COLOUR ILLUSTRATIONS
Publisher: TEMPLAR PUBLISHING
Publication Date: 12/07/2018
Category: Children's
ISBN: 9781787411517