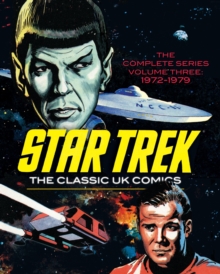 Star Trek The Classic Uk Comics Volume 3
Hardback
Description
This series fills a major gap in Star Trek lore,presenting the never-before-reprinted comics that originally appeared in weeklyBritish magazines beginning in 1969.
These are the U.K. voyages of the starshipEnterprise-and, now, at last, fans everywhere can experiencethem. This third volume reprints all comicsfrom 1972 to 1979 and concludes the 3-volume series that presents the completeStar Trek UK comics.
Bonus material includes various one-shots andannuals, as well as strips created for various merchandise and toys.
Star Trekexpert Rich Handley provides the second half of a detailed encyclopedia of allthings Star Trek from these British comics.
Exploring the minutiae is half thefun of enjoying a franchise, and when it comes to Trek, there's no end of triviato devour.
Information
Format: Hardback
Pages: 272 pages
Publisher: Idea & Design Works
Publication Date: 19/09/2017
Category: Science fiction
ISBN: 9781631409677