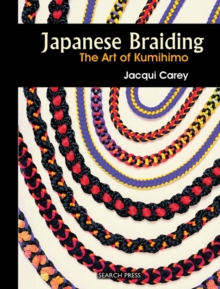 Japanese Braiding : The Art of Kumihimo
Spiral bound
Description
RE-ISSUEThis book will introduce you to the basics of Japanese braiding. There are full step-by-step instructions for each move, followed by pictures of lovely examples to inspire you. 'I strongly recommend this book for the timid beginner and others already addicted.' Jennie Parry, World of Embroidery.
Information
Format: Spiral bound
Pages: 64 pages, 155 Illustrations, color
Publisher: Search Press Ltd
Publication Date: 01/02/2009
Category: Ropework, knots & macrame
ISBN: 9781844484263
Free Home Delivery
on all orders
Pick up orders
from local bookshops
Reviews
Showing 1 - 3 of 3 reviews.
Review by aulsmith
16/06/2015
If you're tired of making round braids on the foam kumihimo disk but can't figure out how to do anything more complicated, this is a good beginning guide to using the marudai for slightly more complex tasks. It also includes how to do the round braid on the marudai.
Review by mastersonso
16/06/2015
An excellent beginners guide to Japanese braiding. It includes examples of the various levels of equipment (from "Pride In My Authenticity" to "Kit-bashed out of common household goods"). The layout and format are excellent. I skimmed through it once on the ride back home from the bookstore, and when I sat down to actually read it, there was no new information for me to absorb -- I had learned everything but the numbers and specific patterns from the skimming.
Review by jjmcgaffey
16/06/2015
Interesting, particularly for a beginner like myself. I know only one pattern for braiding, that uses 16 strands to make a spiral round braid. The book presents a lot more shapes for braids, but uses only 8 strands for most of them, which feels skimpy to me - but I suspect I can expand them later on. The diagrams are excellent, both the layout for the beginning and the sequence diagrams that show the movements. I dislike most of the example braids - the author really loves working thick-and-thin, making part of the pattern through having fine threads against much thicker ones, and I think that's ugly and not useful. But they're only examples - and they do display well how the same pattern can produce very different-looking braids with minor changes. The book begins, of course, with equipment and materials, describing the braid-holder (marudai), the bobbins, and the weight and counter-weights; she shows everything from the traditional equipment to how to create equivalents from stuff lying around the house (cardboard, film canisters, pennies...). There's no mention of the foam disk that most Americans start with, though. She does assume you'll be using multiple threads, in ropes of many strands, and most of the example braids are made of silk or a silk substitute called biron, which are sold in such ropes. One thing that's not clearly shown, after the first braid at least, is just how thick the braids are - it's hard to tell, when all the examples are shown against a plain background (the first braid is shown across a hand, and it can be seen that it's about a little finger thick). It's an excellent, useful book.
Also in the Beginner's Guide to Needlecrafts series | View all