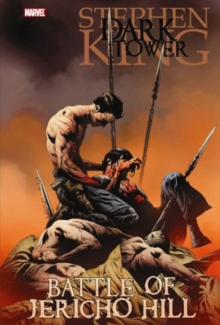 Dark Tower: The Battle Of Jericho Hill
Hardback
Illustrated by

Jae Lee
Information
Format: Hardback
Pages: 144 pages, 1 Illustrations, unspecified
Publisher: Marvel Comics
Publication Date: 18/08/2010
Category: Fantasy
ISBN: 9780785129530
Free Home Delivery
on all orders
Pick up orders
from local bookshops
Reviews
Showing 1 - 5 of 5 reviews.
Review by lithicbee
16/06/2015
The Battle of Jericho Hill, finally. Referenced in Stephen King's Dark Tower books, this is where Roland fought against John Farson alongside his friends, but ends up walking away alone, to spend his life pursuing Marten Broadcloak and the Dark Tower. I have been waiting to reach this point in the story for a long time. Perhaps the anticipation was better than actually getting there. It's not a bad graphic novel, it is just nothing special. We know what is going to happen, how it must end, and there is nothing very exciting to keep us interested in getting there.On a side note, I am a bit disappointed that everyone involved has decided to continue producing these comics, basically The Further Adventures of Roland. The five volumes of the Dark Tower so far fill in some of Roland's history that is only talked about but never detailed in King's books. My fear is that anything going forward will be extraneous to the larger Dark Tower story, which is pretty much perfect as it stands now. Time will tell.
Review by sweetiegherkin
16/06/2015
This is the fifth and final book in the first "chapter" of prequels to Stephen King's Dark Tower series. For some reason, this book was the only one that didn't compel me to read it from cover to cover in one sitting. Thankfully, illustrator Jae Lee was back for this edition so the artwork is amazing (even if brutal), but there's just not much of a plot to this one. It probably could have been shorter and fared well for that, as the final chapter/issue was really the core here. When Aileen was introduced in <i>Treachery</i>, I thought she was a fabulous character so I'm disappointed they didn't do more with her in this book. Overall, after anticipating reading this book for several months, I just felt "meh" about it.
Review by readafew
16/06/2015
The Battle of Jericho Hill completes the tale of Roland and his ka-tet as Roland is leading the free people against the Good Man Farson. Once again Farson has placed a man into the ranks of his enemies as a trusted friend and adviser. This leads to a devastating betrayal. For those hoping over the last 4 Graphic Novels for SOME kind of getting even or comeuppance for the side of good you will be sorely disappointed. This is like the end of Star Wars:Revenge of the Sith. If we're lucky the next one might more closely resemble 'A New Hope'.This series is interesting and I still haven't read any of King's Dark Tower novels. As a comic series I think I'd find this a little slow and lacking in story, but since I'm reading them in the combined 5-6 comic sets it hides this somewhat.I liked the series, the artwork is incredible. This is a fairly gruesome and gritty bit of artwork so not for the squeamish.
Review by Daniel.Estes
16/06/2015
The backstory of Roland Deschain marches on towards its inevitable conclusion and we finally arrive at the infamous Battle of Jericho Hill—long alluded to in the novels. I imagined it to be like a Custer's Last Stand of Mid-World.The plot is thinner here than the climactic <i>Fall of Gilead</i> though I think that's to be expected. <i>The Battle of Jericho Hill</i> is the dark coda of a long decline, of an empire and for Roland personally.
Review by questbird
16/06/2015
I have really enjoyed the Marvel adaptation of the Dark Tower series, and this latest installment is no exception. In fact, I like it more than some of the others because I think it gets the balance right between words and pictures. The graphics of this series are great, but some earlier installments seemed to be nearly *all* graphics. I'm intrigued b the Dark Tower world but I don't enjoy reading Stephen King's works, so this comic gives me the best of both worlds. In this one, Roland Deschain fights on, in spite of the fall of Gilead. He has some successes but the overwheming feeling of impending doom --notable throughout this series -- continues. And is validated.