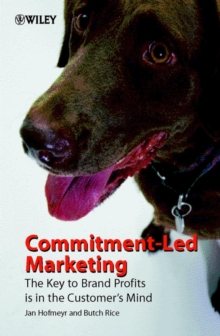 Commitment-Led Marketing : The Key to Brand Profits is in the Customer's Mind
Hardback
Description
Keeping and gaining market share is what most business strive for in the race to make brands profitable.
In a hugely competitive world, customer loyalty has become a key area for concern.
What would happen if you could go one step further and identify not just those customers who are loyal to your brand, but those who are truly committed to your product or service?
This book helps you to do just that. More that ten years ago, Jannie Hofmeyr and Butch Rice created something called The Conversion Model -- a technique that analyses the degree of a persona s psychological commitment to anything and everything.
Marketers will be able to gain a strategic advantage within their market if they implement the thinking, tools and strategies outlines in this book. "After years of using customer satisfaction measures I was extremely frustrated at the lack of correlation between satisfaction and subsequent customer defection rates.
The measurement of commitment, via The Conversion Model provided the vital link I had been looking for."Alan Gilmour, Brand and Marketing Director, Lloyds TSB "The Conversion Model enabled us to establish real insight into loyalty and we effectively fused it with a segmentation process.
This has allowed us to really grapple with the core market dynamics and establish key marketing objectives in an increasingly competitive and diverse marketplace..." Mark Horton, Group Head of Marketing, Northcliffe Newspaper Group "Since I first came across the Conversion Model back in 1990, I have always found it was the perfect tool for measuring the health of brands Ia ve worked on..." David V.
Spangler, Director, The Council for Marketing and opinion Research (MCMOR) and former Research Director of Levi Strauss Co "The Conversion Model is a compelling strategic marketing tool that offers a true understanding of institutional investor behaviour.
It is a predictive indicator of potential market share gains and losses with a phenomenal degree of precision." Patricia Toney, Manager, Marketing research, Chicago Board of Trade "To grow a business, convert customers to your offering and then keep them committed...a very powerful answer is in this book."John Deighton, Professor of Business Admininstration, Harvard Business School "Using the Conversion Model has given us significant insights into brand choice across a range of countries and cultures...The added dimension of commitment has allowed us to understand more comprehensively what is in the mind of our consumers -- a real plus in terms of giving us the competitive edge." Janett Edelberg, Joseph E.
Seagram & Sons
Information
Format: Hardback
Pages: 320 pages
Publisher: John Wiley & Sons Inc
Publication Date: 29/11/2000
Category: Market research
ISBN: 9780471495741
Free Home Delivery
on all orders
Pick up orders
from local bookshops