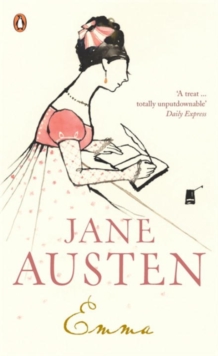 Description
Beautiful, clever, rich - and single - Emma Woodhouse is perfectly content with her life and sees no need for either love or marriage.
Nothing, however, delights her more than interfering in the romantic lives of others.
But when she ignores the warnings of her good friend Mr Knightley and attempts to arrange a suitable match for her protegee Harriet Smith, her carefully laid plans soon unravel and have consequences that she never expected.
With its imperfect but charming heroine and its witty and subtle exploration of relationships, "Emma" is often seen as Jane Austen's most flawless work.
Information
Format: Paperback
Pages: 512 pages
Publisher: Penguin Books Ltd
Publication Date: 06/04/2006
ISBN: 9780141028095
Other Formats
Paperback from £2.50
Hardback from £9.15
CD-Audio from £11.39
EPUB from £0.99
Free Home Delivery
on all orders
Pick up orders
from local bookshops
Reviews
Showing 1 - 1 of 1 reviews.
Review by AdonisGuilfoyle
16/06/2015
Either times have changed, or Jane Austen was merely being coy when she described Emma Woodhouse as 'a heroine whom no-one but myself will much like'. She is perfectly delightful, more so for being 'faultless in spite of all her faults', and Mr Knightley is another inspiring leading man (surely her heroes, and not the heroines, are the secret of the author's success?) I don't dislike Emma, I want to *be* her!My eyes are finally opened to the appeal of Jane Austen's books, after years of holding out against her 'white frocks and weddings' romances. Granted, she only ever wrote six novels, and most of them share the same plot devices, but her subtle sarcasm and skilful narration make reading her limited oeuvre an education and a pleasure. Some of her sentences take a bit of unpicking, like her negative sentence construction - writing 'she could not think it so very impossible that the Churchills might not allow their nephew to remain a day beyond his fortnight' instead of 'she knew Frank's aunt would want him back in Yorkshire', for instance - but the careful use of formal language only adds to the necessary attention due to Austen's prose. But I know the story, from the film and the recent miniseries, and so unlike Frank Churchill, my stay in Highbury was permitted to be leisurely.Aside from Emma and Mr Knightley, and the fun of playing the omniscient reader by picking up on clues that the eponymous heroine herself is oblivious to, the real luxury of reading 'Emma' for me comes from the sense of community that Jane Austen works so well into her books. Like Mr Woodhouse, by the end of the novel I was wishing that nothing would change - the Woodhouses at Hartfield, with Mr Knightley walking the mile from Donwell to visit, and familiar faces such as Mr and Mrs Weston at Randalls and Miss Bates with her inane chatter in Highbury. All right, I could live without Miss Bates. Reading 'Emma', however, is both comforting and reassuring, like a carefree summer's day or sitting by the fire when it's snowing outside (and both scenes are pictured beautifully within). The perfect antidote to a slow Sunday afternoon, or travelling on public transport!