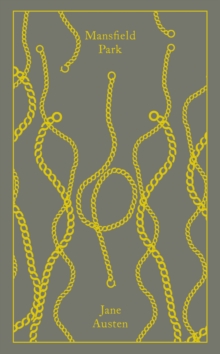 Description
Part of Penguin's beautiful hardback Clothbound Classics series, designed by the award-winning Coralie Bickford-Smith, these delectable and collectible editions are bound in high-quality colourful, tactile cloth with foil stamped into the design.
Taken from the poverty of her parents' home in Portsmouth, Fanny Price is brought up with her rich cousins at Mansfield Park, acutely aware of her humble rank and with her cousin Edmund as her sole ally. During her uncle's absence in Antigua, the Crawford's arrive in the neighbourhood bringing with them the glamour of London life and a reckless taste for flirtation. Mansfield Park is considered Jane Austen's first mature work and, with its quiet heroine and subtle examination of social position and moral integrity, one of her most profound.
Information
Format: Hardback
Pages: 560 pages
Publisher: Penguin Books Ltd
Publication Date: 03/11/2011
Category: Classic fiction (pre c 1945)
ISBN: 9780141197708
Other Formats
Paperback from £2.50
Hardback from £7.29
CD-Audio from £9.95
EPUB from £1.04
Free Home Delivery
on all orders
Pick up orders
from local bookshops
Reviews
Showing 1 - 3 of 3 reviews.
Review by bookworm12
16/06/2015
SPOILERSIn the first half of the book we meet the Bertrams, a wealthy family that decides to take in the eldest daughter of their relation. They've decided her presence will cause very little inconvenience for them and their status will give her a much better life. Little thought is given to how difficult it will be for the 10-year-old girl to leave her family and move in with strangers. The young girl is Fanny Price and as she begins her new life with her Aunt and Uncle's home she is timid and shy. She cries every day until she finally finds a kindred spirit in her cousin Edmund. She desperately misses her older brother and Edmund fills that role for her.As the story progresses and Fanny grows up she begins to form her own opinions about the people she lives with. In addition to Edmund she has two female cousins, Maria and Julia, and another male cousin, Tom. Her uncle, Sir Thomas, is gone for much of the first half dealing with his business in Antigua. His eldest son Tom is with him for part of that time. While he is gone two young people, brother and sister Henry and Mary Crawford, move in the area and begin to spend time with the Bertrams. Their presence causes the tightly knit world of Mansfield Park to begin to unravel.Despite being engaged, Maria becomes interested in Henry Crawford. Edmund also develops a bit of a crush on Mary Crawford. He has always seen himself as a bit of an outsider with his family. He disapproves of the dismissive way they treat Fanny and their shallowness. When Tom returns the Bertrams and Crawfords decide to put on a play. This is a turning point in the story, forcing everyone to make their first major moral choice. The racy content of the chosen play causes both Fanny and Edmund to decide not to be involved with its production. Edmund later changes his mind to prevent someone from outside their home getting a role.For the first time Fanny's company is actively sought by someone, namely Mary Crawford, and she is not excluded. She can't bring herself to participate in the rehearsals, but she watches the others performing.In addition to Fanny's inclusion, Edmund changes drastically as well. He begins to compromise his beliefs to justify Mary Crawford's behavior and Fanny becomes more stubborn and condescending in response to his actions. Sir Thomas arrives home and casts a dark air over the whole house; the feeling of playful joviality disappears as the Crawfords leave.In the second half of the book the relationship between the Bertrams and the Crawfords becomes much more complicated. Henry has decided he's interested in Fanny and Edmund wants to pursue a courtship with Mary. After a complicated back and forth with necklaces Fanny feels more lost than ever. She received a necklace from Mary, but she's worried it's really from Henry but she doesn't want to offend her friend. Poor Fanny has no interest in Henry and turns him down multiple times. Her uncle is incredibly disappointed in her decision, thinking it a wonderful match. He decides to send her back to live with her family so she can understand how valuable a comfortable lifestyle is. While with her family she realizes just how little she has in common with them. Meanwhile her letters from Mary are beginning to make her understand her friend's true shallow nature. When Edmund's older brother Tom becomes ill Mary is more concerned with whether Edmund will benefit from his death than anything else. Henry visits while she is with her family and we begin to see a more genuine side to his personality beneath his flirtatious exterior. All of that becomes a moot point when he runs away with the now married Maria. The scandalous act horrifies both Fanny and Edmund. Mary makes excuses for her brother causing Edmund realizes how blind he has been to her true temperament and he breaks off any understanding between them. Then in a shocking turn of events Edmund falls in love the Fanny and the two are married. MY THOUGHTS:Mansfield Park seems like the book that Austen fans love to hate. I feel as though my opinion of it has changed through rereading it. The first time around I found Fanny whiny and moralistic. The second time around I took into account her situation and the strength it takes to stand your ground regardless of peer pressure. I think that because I already knew what decisions Fanny was going to make I was able to pay more attention to the reasons why she made them. Her reasons for refusing Henry Crawford's advances are incredibly valid, but it's incredibly difficult for Fannie to stand up to Sir Thomas and try to explain why she doesn't want to marry Henry. He loses all respect for her thinking that she just doesn't like Henry as much as she might. She feels she can't be honest about her reasons for refusing him without implicating her cousins in Henry's bad behavior. Yes she still stands her ground saying that she doesn't want to marry despite her Uncle's pressure. That's an impossible position to be put in considering Sir Thomas has given her a home for the last almost decade of her life. The section where Fanny returns to her family is heartbreaking. She no longer feels like she knows her parents and siblings. She doesn't feel at home there despite the fact that she's been calling it home for a decade. It's hard for her to realize it, but Mansfield Park is her true home. I was also impressed with the big issues Austen tackled in this one. Adultery was an incredibly scandalous subject during that time period and Austen makes it a focal point of the book. Everything hinges on Henry's actions and when he runs away the entire Bertram family is thrown into chaos. The one part of the book that still doesn't sit right with me is the marriage at the end. It's too neat and tidy. The entire second half of the book Edmund has been telling Fanny that Mary is the only woman he could ever love. Then when that doesn't work he decides he can't live without Fanny? It doesn't feel right. The two were raised in the same house, just like brother and sister. It feels like a marriage of convenience and I just hate that. I think Fanny could do so much better. There's one bit from the final chapter that makes me think even Austen thought the quick turn around of Edmund's feelings was a bit of a stretch…"I purposely abstain from dates on this occasion, that every one may be at liberty to fix their own, aware that the cure of unconquerable passions, and the transfer of unchanging attachments, must vary much as to time in different people. I only entreat everybody to believe that exactly at the time when it was quite natural that it should be so, and not a week earlier, Edmund did cease to care about Miss Crawford, and became as anxious to marry Fanny as Fanny herself could desire."BOTTOM LINE: I'm so glad I reread this. It's still not my favorite, but I gained such an appreciation for it this time around. Fanny is not just a moralizing condescending character. She's a strong woman who sticks by her principles even with unbelievable pressure from those around her. I respect that. I may not love her and the way I love some of Jane Austen's other heroines but I feel like I understand her better now.  
Review by murderbydeath
16/06/2015
A very good story, as expected from Jane Austen. But I have to say, it's not one of my favorites. I had a hard time finding any of the characters sympathetic - Fanny and Edmund came across as so virtuous as to be prudish, while the rest were just foolish - except for Mrs. Norris, of course, who was just plain stupid and nasty. I think had Susan been more in the story I'd have ended up liking her best. But still, I enjoyed the reading of the story and it will probably be one I revisit every few years or so.
Review by thereadingrebel
16/06/2015
Mansfield Park is Austen's third,least popular,and my second favorite of her novels.It is the least popular because like most of her relatives,most readers do not understand the heroine Fanny Price.Fanny's high sense of morals,duty,honor and gentleness are uncommon in our society today.Today society doesn't have a moral code.I am very fond of Fanny and she is one of my favorite heroines.I dislike Henry and Mary Crawford,who most other readers seem to like.Henry Crawford is the kind of man who leads you on,gets sick of you,or gets what he wants or both then skips out on you.Leaving you with a broken heart.Henry Crawford is the best actor of all the young people(in play they almost put on in the book).It's because his whole life is that an act.He cannot be himself because he doesn't know himself.His sister Mary is not much better.She values money over character.Henry charms Fanny's female cousins Maria and Julia.While Mary bewitches Fanny's best friend,cousin,and true love Edmund.Fanny is the only one who doesn't fall under the Crawfords charms.She sees them for who they are all charm,no substance.Fanny Price may not be as lively or witty as some of Austen's other heroines like Elizabeth and Emma but everyone is different.I hope when you read Mansfield Park you love Fanny Price for who she is and not who she isn't.
Also in the Penguin Clothbound Classics series | View all