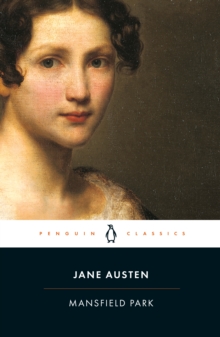 Description
Taken from the poverty of her parents' home in Portsmouth, Fanny Price is brought up with her rich cousins at Mansfield Park, acutely aware of her humble rank and with her cousin Edmund as her sole ally. During her uncle's absence in Antigua, the Crawford's arrive in the neighbourhood bringing with them the glamour of London life and a reckless taste for flirtation. Mansfield Park is considered Jane Austen's first mature work and, with its quiet heroine and subtle examination of social position and moral integrity, one of her most profound.
Information
Format: Paperback
Pages: 544 pages
Publisher: Penguin Books Ltd
Publication Date: 27/02/2003
Category: Classic fiction (pre c 1945)
ISBN: 9780141439808
Other Formats
Hardback from £7.29
Paperback from £2.50
CD-Audio from £9.95
EPUB from £1.04
eAudiobook MP3 from £7.20
Free Home Delivery
on all orders
Pick up orders
from local bookshops
Reviews
Showing 1 - 5 of 54 reviews.
Previous | Next
Review by rainbowdarling
16/06/2015
For the length of this book, not much actually happened in the story. I liked some of the characters, though none was really very engaging and overall enjoyed the story but there seemed to be no spark in it. It lacked that special something that ramps a book from the ordinary to the pile of books to be read and re-read through the years. Not one of my favorite Austen novels.
Review by hrissliss
16/06/2015
This is the third time I've read this, and I like it more each time. The first time, I hated it. Since, I've been trying to understand why (since I've liked/loved every other Austen novel I've read) and it's amazing, how Austen manages social critique without looking like that's what she's doing. I hesitated to label her subversive before (for her time period), but now...anyway, highly recommend. 9/10
Review by fyrefly98
16/06/2015
Summary: When Fanny Price was a child, she was sent to live with her Aunt and Uncle Bertram, who were much better off than Fanny's own parents, and could better afford the care of an additional child. But Fanny is never truly part of the family; constantly reminded how fortunate she is to be taken in by her relations, and constantly compared to her cousins, and without the self-possession or self-confidence to change her position, her only ally is her cousin Edmund. But even as she falls for him, he falls for a friend of the family, and if Fanny can't bring herself to speak her mind, she is in danger of finding herself married to a man she cannot love as she loves Edmund.Review: This is the last of Austen's main books that I've read, and I'm afraid to say, it's by far my least favorite. Fanny is just such a wet rag, incapable of doing or saying anything to promote her own happiness, that I had a hard time caring about that happiness myself. I mean, not that I was rooting for her to be unhappy or anything, but if you're not doing anything to help yourself, I don't have much sympathy for the "circumstances are conspiring against me!" kind of argument. I want my protagonists to have a little more spirit (or at least a little spirit, period). The one time that Fanny does have an opinion that she's willing to express - namely, that she doesn't want to marry Mr. Crawford - we're treated to several chapters of what seems like every other character trying to convince her that she's wrong, that she does want to marry him, and that she owes it to him to love him just because he's decided he loves her. It's gross, and it soured me not only on Fanny, but on most of the other characters as well. Granted, most of them were not particularly likable to begin with, but even Edmund comes off as smug and willfully oblivious to the feelings of everyone around him, even Fanny who he's "molded" to think in a way that's acceptable to him. It made the inevitable ending, in which everyone gets their just desserts, including Edmund's extremely abrupt change of heart with regards to Fanny's suitability as a romantic partner, less than satisfying. I'm sure that, if I were reading Mansfield Park on a deeper, more critical level, there's plenty of sharp satire and social commentary going on in. But since I am just reading for fun, and the main plot could be boiled down to "poor cousin is taken in by rich family and is bullied and treated badly for almost the entire book, and is too weak-willed to say or do anything about it", it wasn't something that I particularly got into. 2.5 out of 5 stars.Recommendation: Oooooh, I hate to say it for something that's as much of a classic as Austen, but: pass. Or at least pass until you've run out of Austen's better, more engaging books.
Review by marcyjill
16/06/2015
I wasn't sure I was going to like Mansfield Park again at first. I read it some years ago and I remember liking it, but that was about all I remembered besides the name Fanny Price. Now that I've completed it I have to say I did enjoy it in the overall. I think it has most to do with Jane Austen's writing than anything, but after the first section, the story was quite absorbing.
Review by fleurdiabolique
16/06/2015
I am honestly ambivalent about this book. The ending left me extremely dissatisfied; I was angry with the way things seemed to be going through much of the third volume, and the "solution" provided was far too sudden to be believable, nor was it itself satisfactory either; Fanny Price is easily one of the most obnoxious characters to read about that I've ever encountered; and the whole thing tended to reek a bit too often of stereotypical Victorian hyper-moral/sentimental sensibilities. And yet I was definitely emotionally involved, and never bored... An enigma of a reading experience. I strongly doubt I'll be going back through the novel again anytime soon in order to clarify my thoughts, however.