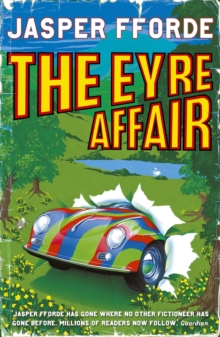 The Eyre Affair : Thursday Next Book 1
Paperback
Description
There is another 1985, somewhere in the could-have-been, where the Crimean war still rages, dodos are regenerated in home-cloning kits and everyone is deeply disappointed by the ending of 'Jane Eyre'.
In this world there are no jet-liners or computers, but there are policemen who can travel across time, a Welsh republic, a great interest in all things literary - and a woman called Thursday Next.
In this utterly original and wonderfully funny first novel, Fforde has created a fiesty, loveable heroine and a plot of such richness and ingenuity that it will take your breath away.
Information
Format: Paperback
Pages: 384 pages, None
Publisher: Hodder & Stoughton General Division
Publication Date: 19/07/2001
Category: Crime & mystery
ISBN: 9780340733561
Free Home Delivery
on all orders
Pick up orders
from local bookshops
Reviews
Showing 1 - 5 of 34 reviews.
Previous | Next
Review by mydogatebob
16/06/2015
The Thursday Next novels were one of my best book discoveries. I bought The Eyre Affair on a whim, and now can't get enough of Jasper Fforde's crazy world. He has a great sense of humour and has come up with a great cast of characters to display. A truly good read, and The Eyre Affair will make sense even if you're not a fan of classic novels, I promise!
Review by hklibrarian
16/06/2015
I just LOVE this writer. He has a fantastic imagination and a bizarre sense of humor. His books are very difficult to put down. Can't wait to read his next one!
Review by Katiebear
16/06/2015
I'm not going to go on and on about this book, other than I love it! It's witty, plot driven, with great characters. I would recommend this book to anyone who likes a little crazy fiction mixed in to their normal reading life. It's kind of fantasy, but not too fantasy, and it's pretty easy to swallow. Seriously. Go out and buy this book, you will love it.How can you not love a book with characters named things like Braxton Hicks? Great for everyone over the age of 14 (mild violence, sexual overtures).
Review by reading_fox
16/06/2015
Surreal.Exceptionally funny, bizzarely odd. The Eyre Affair is a stunning debut novel set in an alternate history Swindon in 1985, So many things are different - dodo's exist, the Crimean war continues, and people like to read. Books are special. There is public outcry when a character from Dickens' Martin Chuzzlewit is found to be missing. Thursday Next is a literery detective and soon finds that the master fiend Archeon Hades is behind the disapearance. In this alternate history many things also remain the same - Multinational corporations, called Goliath are the force behind most government actions.The writing is light and easy, the action, puns and bad jokes come quick and continually. The social commentry and background workd are deftly introduced without tedious exposition, and while many of the characters are a bit stiff, Thursday is well described. Keep a carefull eye on all the names and places that are mentioned - many contain very well hidden references to the outside worls, JF's website has the ful breakdown, and I'm sure you'll be suprised at how many you've missed. Excellant fun, brightens up any day. Read them all.
Review by kisokachan
16/06/2015
The man is a bloody genius. I don't understand people dismissing this as juvenile, it is delirious fun and it is very, very smart. Fforde knows how to use words, and as you go along with the series and get further sucked into his universe things get zanier and zanier. Mind stretch. The ideas he just throws away in his book for a laugh, if you really think about them, he has a remarkable mind. Brilliant fun. Still can't quite wrap my head around it.