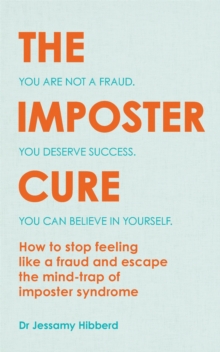 The Imposter Cure : How to stop feeling like a fraud and escape the mind-trap of imposter syndrome
Paperback / softback
Description
'You've definitely heard of it, you've almost certainly felt it and it's actively stopping you from being your best self.
In a new book on imposter syndrome Dr Jessamy Hibberd provides a definitive guide to understanding and tackling the psychological mind trap. - The Sunday Times Imposter syndrome is a phenomenon in which people believe they are not worthy of success.
They convince themselves that they have done well due to luck and are terrified their shortcomings will eventually be exposed, making it impossible to enjoy their accomplishments. The Imposter Cure explores the psychological impact of imposter syndrome and exposes the secrets fears and insecurities felt by millions of men and women.
Dr Jessamy Hibberd provides sound expert advice to help the reader better understand the problem and overcome it, so they think differently, gain self-belief and learn to see themselves as others do.
Filled with case studies to bring the concepts alive and packed with strategies to increase confidence, this book is a must-read for anyone who has struggled with their achievements. "I still have a little imposter syndrome, it never goes away, that you're actually listening to me...
I share that with you because we all have doubts in our abilities, about our power and what that power is." Michelle Obama"There are still days when I wake up feeling like a fraud, not sure I should be where I am." Sheryl Sandberg"When I receive recognition for my acting, I feel incredibly uncomfortable.
I tend to turn in on myself. I feel like an imposter." Emma Watson
Free Home Delivery
on all orders
Pick up orders
from local bookshops