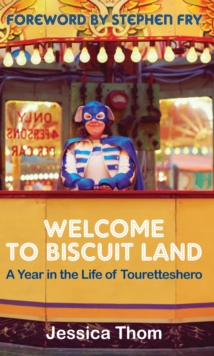 Welcome to Biscuit Land : A Year in the Life of Touretteshero
Paperback / softback
Description
A witty, yet stirring firsthand account of dealing with the daily difficulties of Tourette's Syndrome - a neurological disorder characterized by physical and verbal tics - Jess Thom shares a year of her life, detailing the entire spectrum of her experiences. From arm and leg tics that can occasionally be life-threatening to uncontrollable verbal outburst - she says the word 'biscuit' an average of 16 times per minute - Jess manages with the support of a close network of friends and family, as well as encountering strangers who can be unpredictably helpful and harmful.
At once funny and shocking, tender and moving, this memoir provides a courageous and optimistic voice in the face of the major challenges, leaving readers with an inspiring message of resilience. Jess Thom has Tourette's Syndrome, a neurological condition that manifests itself through multiple vocal and physical tics.
She says 'biscuit' up to 16 times per minute, (about 6 million times a year), she beats her chest regularly, her walking is in her own words 'chaotic' and, in common with only 10% of the 300,000 people in the UK with Tourette's, she swears involuntarily.
When she agreed to talk about the condition for Stephen Fry's series, Planet Word, little did she realise the impact it would have.
Her humour, courage and complete lack of self-pity touched the audience and led Fry to declare her 'a true hero'.
Other media followed, including interviews on the Today programme and This Morning, and now her remarkable story is told in full in WELCOME TO BISCUIT LAND.
Based on her entertaining blog, Touretteshero, the book follows a year in Jess's life, and shows that although living with Tourette's is tough, it can also be funny and inspiring.
As her alter ego, Jess transforms herself into a superhero to educate children and adults about her condition, and to empower others who have it not to feel downhearted.
With wit and considerable frankness, she describes her daily challenges, while celebrating the creativity and humour of her condition. ('Biscuit' may be her most common word but others are more poetic with "The history of iguanas can be written in a tea pot" and "The clouds are chasing Helen Mirren" being two favourites).
Jess introduces Leftwing Idiot, Fat Sister, King Russell, Poppy, and others, who provide friendship and support and enable her to go to work and live in her own flat.
She talks of the frustrations of coping with everyday tasks when her body won't stay still, such as using a cash machine or washing her hair.
She reveals how she deals with the inevitable funny looks and nasty comments, and how the simple kindness and understanding of strangers can make a big difference.
Through WELCOME TO BISCUIT LAND, and her blog, Jess aims to alter the perceptions of Tourette's, showing it as the creative, if somewhat surreal, force that it is.
Information
Format: Paperback / softback
Pages: 208 pages
Publisher: Profile Books Ltd
Publication Date: 01/10/2012
Category: Memoirs
ISBN: 9780285641273
Free Home Delivery
on all orders
Pick up orders
from local bookshops