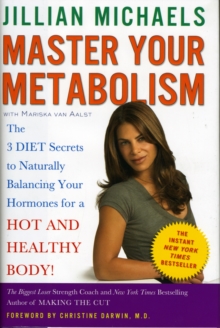 Master Your Metabolism
Hardback
Information
Format: Hardback
Pages: 288 pages
Publisher: Random House USA Inc
Publication Date: 04/04/2009
Category: Diets & dieting
ISBN: 9780307450739
Other Formats
Paperback from £5.45
Hardback from £15.95
Free Home Delivery
on all orders
Pick up orders
from local bookshops
Reviews
Showing 1 - 5 of 7 reviews.
Previous | Next
Review by snjoslin
16/06/2015
I wanted to like this book, I really did! Aside from her personal anecdotes, there is little here that hasn't been repeated ad nauseum in other books, articles, or TV programs. If you're looking for a preachy book that simply tells you to exercise and eat whole foods instead of processed junk, this is it. The nonsense about "resetting the metabolism" and Jillian's recently introduced line of detox/fat blaster pills makes me view this book as no more than a shameless cash-grab.
Review by Fairydragonstar
16/06/2015
She actually has some very good common sense advice
Review by RubyA
16/06/2015
I liked this book and it definitely inspired me to go organic.<br/><br/>The diet seems easy enough and fairly intuitive, which is a good thing. Luckily I generally already avoid processed foods and try to get my 5 servings of veggies a day every day and only eat whole grains so it should be pretty easy for me to stick to this, but there are definitely certain things I can work on- i.e. no carbs at night, no splenda, no plastic containers etc. :-)<br/><br/>One thing that would have improved this book: Michaels goes into great detail about the way different hormones work within the body. I think the book would have benefited from a glossary of terms at the end which one could easily refer to. There does seem to be a lot of information overload in a short page span, which means that I found it hard to absorb a lot of the more nuanced information. I kinda skimmed the technicalities of things and was like, "ok, so what should I eat?"<br/><br/>This is definitely a book that can and should be referred to time and again because of the valuable information, interesting and yummy easy recipes, useful charts, and tons of references to websites and other resources. I particularly liked the choose 1 and add 1 chart which basically breaks down every meal into a protein and carb/veggie and breaks the diet into something super easy to follow.<br/><br/>
Review by satyridae
16/06/2015
Picked this up at the library because she's the woman in one of the TV workouts I've been doing, and I wanted to see what she had to say. Mostly it's a rehash of what Michael Pollan and the other natural food gurus have been saying for the last couple of years with a bunch of detailed information about hormones thrown in. It all sounds very scientific, but it all comes back around to "eat food your grandmother would have recognized and don't eat too much of it". <br/><br/>The authorial voice is an interesting one, however, and I thought it worth reading although I'm playing the part of the choir when it comes to whole foods.
Review by MichelleCH
16/06/2015
Expected a bit more from this book; clearly we should all eat as much organic food as possible and limit exposure to chemicals in our environment which are key points in her book. Would love to see Jillian take a more active role in advocating for these issues versus promoting Ziploc and Brita.