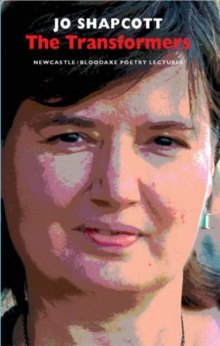 The Transformers, The : Newcastle/Bloodaxe Poetry Lectures
Paperback / softback
Description
In this innovative series of public lectures at the University of Newcastle upon Tyne, leading contemporary poets speak about the craft and practice of poetry to audiences drawn from both the city and the university.
The lectures are then published in book form by Bloodaxe, giving readers everywhere the opportunity to learn what the poets themselves think about their own subject.
Jo Shapcott's three lectures explore how writers are transformed by reading.
Too little attention has been paid to our relationship with what we read.
The authors who are important to us move into our houses; they come alive so that we feel close enough to engage in imaginary discussions and arguments with them.
This intimacy is profound, and the range of an individual's responses to any single book is enormous: the writers we read are as close as friends, enemies, lovers - closer perhaps.
Speaking English through a French Mouth: The German-language poet Rainer Maria Rilke also wrote over four hundred poems in French.
This lecture shows how these worked on Shapcott's imagination first as a reader, and then as a writer, culminating in "Tender Taxes", her versions of the French poems. The lecture is illustrated with rare engravings by Rilke's lover Balandine Klossowska which accompanied ten of his French poems in their first publication.
How poets read poets: Spender wrote of Hopkins that he 'ferments in other poets'.
The second lecture looks at how Hopkins has been transformed by reading in the work of Elizabeth Bishop, Robert Lowell, Seamus Heaney and others.
By examining this variety of reactions to one writer, Shapcott discovers more widely how poets read and what their reading tells us about them as writers.
Where to find a poem: a rough guide for the 21st century: Has the relationship between the contemporary reader and the poem been transformed by the strange times we live in?
This lecture is a series of stories, all illustrating the relationship between readers and writers, looking at how we read and how we transform our reading.
It takes in a variety of writers, including Coleridge, Galileo Galilei, and Harald Hardrada, a King of Norway in the ninth century but also a poet.
This is the fourth book in the "Newcastle/Bloodaxe Poetry Series".
Information
Format: Paperback / softback
Pages: 64 pages
Publisher: Bloodaxe Books Ltd
Publication Date: 29/03/2018
Category: Poetry
ISBN: 9781852245795
Free Home Delivery
on all orders
Pick up orders
from local bookshops
Also in the Newcastle/Bloodaxe Poetry series