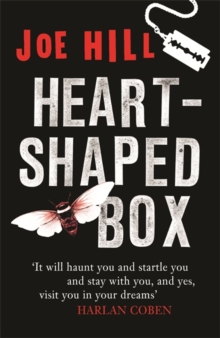 Heart-shaped Box
Paperback
Description
'Buy my stepfather's ghost' read the e-mail.So Jude did.He bought it, in the shape of the dead man's suit, delivered in a heart-shaped box, because he wanted it: because his fans ate up that kind of story.
It was perfect for his collection: the genuine skulls and the bones, the real honest-to-God snuff movie, the occult books and all the rest of the paraphanalia that goes along with his kind of hard/goth rock. But the rest of his collection doesn't make the house feel cold.
The bones don't make the dogs bark; the movie doesn't make Jude feel as if he's being watched. And none of the artefacts bring a vengeful old ghost with black scribbles over his eyes out of the shadows to chase Jude out of his home, and make him run for his life . . .
Information
Format: Paperback
Pages: 416 pages
Publisher: Orion Publishing Co
Publication Date: 01/05/2008
Category: Horror & ghost stories
ISBN: 9780575081864
Other Formats
Paperback from £7.85
EPUB from £4.49
Hardback from £11.79
Free Home Delivery
on all orders
Pick up orders
from local bookshops
Reviews
Showing 1 - 5 of 7 reviews.
Previous | Next
Review by NextRead
16/06/2015
SynopsisIf you're a rockstar who already has a collection of the macabre what is the harm of buying a dead man's suit, with ghost attached, off the internet? For Jude Coyne it's going to drag him to hell. Literally.You'd be forgiven for thinking that Jude Coyne is a descendent of the Prince of Darkness with rock and roll hell raising lyrics and all that entails and maybe at some time he was. He still goes for young girls who stay for 9 months or there about and seem to all have names of states but now his past comes back to haunt him.Analyse/Comments/ThoughtsI don't like gore and guts. I won't watch films that aim to shock by visuals alone. I need to get inside someone's head and feel what they feel and see what they see. And this book is very much about what Jude Coyne sees and feels.The strength Heart-Shaped Box is seeing beyond the act that the public see and seeing the consequences of actions and repeating cycles. The ghost is here to make him pay. But along the way we get an insight into what we see might not be what we get.Sure it's a horror tale but it's more haunting that horrific. That is, it's not about shock value. It lingers much like the ghost itself who gains control of Jude like a hypnotist and has him more than once about to kill Georgia until he's snapped out of it by things that he holds dear.One of the most memorable scenes takes place in a public place and breaks the illusion that these things happen in isolated places where there are no witnesses.I suppose I should mention that Joe Hill is the son of Stephen King and all I'm going to say is that he's inherited his father's talent for people and he's got his own way of telling a tale. Which are both great things.I would have liked a few more confrontations between the ghost and Jude just to heighten my heart rate a little more than it was already.But I've said before that the best stories are the ones that take the character and readers on journeys and change us both. And I enjoyed it all the way. I kept reading even when I should have been doing other things. I was sad when some things happened and happy at others. I'm eager to see where Joe Hill can take me next.SummaryA striking, insightful and strong debut from a writer who if at the start of their career is playing with emotions and building characters like this then I'm looking forward to seeing what he can do when as he goes from apprentice to master.Joe Hill is a new and striking voice in haunting fiction who can stand shoulder to shoulder with some of the masters of the genre.
Review by SonicQuack
16/06/2015
Heart Shaped Box is a ghost story. It's born from a fresh and cutting-edge angle and never stops from the first page to the finale. Hill creates a great sense of foreboding terror and the ghost in question is both memorable and deeply malevolent. Tension arises from well fleshed out and realistic characterisation, which also allows Hill to pull some emotional kidney punches. Original horror is a treat, and Heart Shaped Box is certainly original and is also well crafted too. A story which will remain in your thoughts for some time after you put it down. Recommended.
Review by VanessaDobbs
16/06/2015
Good idea and welltold but frightened me so I had to give up reading.wamted tolike it and amsure if you like horror you will enjoy.Just not my cup of tea.Th rest of my book group liked it
Review by iftyzaidi
16/06/2015
I don't read much in the horror genre, but decided to try this out after it was recommended by a fair few people. Its an entertaining read, suitably creepy in places, with an interesting protagonist who one initially finds somewhat repulsive, but who develops well throughout the story. The writing is fluid and the plot moves along at a fair clip. The story is about an ageing heavy metal singer who has intimacy issues and collects gothic memorabilia. One day he buys a dead man's suit over the internet, which is said to be haunted. Not only does this suit turn out to be haunted, but it is connected with the singer's past in surprising ways. Good stuff.
Review by SkyRider
16/06/2015
Every so often, I pick up a horror novel. I keep looking for that frisson of fear that I felt when I read Dracula or M.R. James ghost stories when I was a teenager but usually find myself trawling through some mediocre psychological thriller with particularly graphic descriptions of gory scenes and putting the book down, disappointed.Kudos, then, to Joe Hill for writing a novel that is genuinely scary and doesn't depend on revulsion to get there. It had just the right mix of fear and chills to make it an entertaining yet frightening read. The premise - buying a ghost over the internet - is fresh and original and the initial set-up is brilliantly conceived. The narrative is lyrical and Hill is able to find that narrow line between evocative description and overblown pretension.It's not flawless though and, sadly, after a promising start the narrative falls apart a bit. The story loses its way once the main protagonists start running and the characters start to flatten from grizzled, grumpy aging rocker and gormless groupie into a fairly archetypal pulp hero and heroine, presumably in order to get us to sympathize with characters initially depicted as rather unpleasant. I found the ending a bit too easy too; it's difficult to explain without giving a bit too much away but it's hard to conceive (without some explanation) that someone could be rudely dumped, sent back to an abusive environment and yet self-sacrificially save the person who engineered it. So although it started well, ultimately The Heart-Shaped Box didn't deliver. But despite that, I'd like to say a heartfelt thank-you to Joe Hill for providing the chilling ghost story that I needed to restore my faith in the genre.