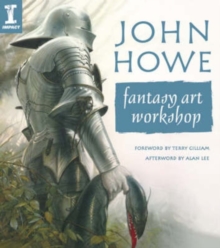 John Howe Fantasy Art Workshop
Paperback
Description
Discover the creative processes and intriguing inspirationsbehind the work of leading fantasy artist John Howe, in his first-everpractical art book. `Here's how I do it, and why': this is the premise behindJohn Howe's practical exploration of his artistic inspirations, approaches andtechniques.
This book will appeal to practical artists and fans of John Howe'swork by leading you step-by-step through a range of specially commissioned demonstrations,sketches and outstanding finished paintings, some designed specifically forthis book, that reveal John's renowned artistic approach in action, plus thetechniques and stories behind each. It covers a wide range of subjects essential to any aspiringfantasy artist, beginning with the creative process, exploring whereinspiration comes from, looking at narratives and themes, gathering and usingreference materials, organizing your working environment, and protecting andstoring your artwork. The second chapter focuses on Materials and Techniques,looking at the materials and techniques John Howe uses, in the hope that thiswill help you find your own that work for you.
Howe covers sketches andsketchbooks, drawing materials, paint and ink, with tips for drawing when outand about. In the third part of the book, Howe explores drawing andpainting fantasy beings from initial inspiration and approaches to characters,symbolism and accouterments.
He begins by showing how to create different typesof fantasy human beings: male and female archetypes, humans in action, armourand weapons, faces, expressions and hands, hair and costumes, and goes on toexplain how to create different types of fantasy beasts: talons, wings, fangsand fire, and noble animals, interspersed throughout with exciting case studiesfrom Cernunnos to Beowulf and the dragon. Chapter four explores landscapes and architecture from thefour elements; earth air, fire and water to creating fantasy buildings andbalancing light and dark atmospheres, also interspersed with case studies,including Atlantis. The final section of the book provides further inspirationand guidance on presenting work in various forms, including film work, bookcovers and advertising, all areas John Howe has vast experience in. The foreword is written by groundbreaking film directorTerry Gilliam, with an Afterword by Alan Lee, the Oscar winning world-classillustrator. John Howe Fantasy ArtWorkshop is an incredibly inspiring book for all fantasy artists. `You feel like you're sitting watchingHowe at work in his studio.
His approach is impressive and inspirational.'--Leisure Painter`A masterclass in fantasy art, packed with information, and written in afriendly, accessible style.' --Death Ray
Information
Format: Paperback
Pages: 128 pages
Publisher: F&W Publications Inc
Publication Date: 15/10/2007
Category: Painting & art manuals
ISBN: 9781600610103
Other Formats
EPUB from £12.47
PDF from £12.47
Free Home Delivery
on all orders
Pick up orders
from local bookshops
Reviews
Showing 1 - 1 of 1 reviews.
Review by mastrein
16/06/2015
A really inspiring book. Howe is not only good with brushes, he can write to. He shares his knowledge in the field and hands out lots of hint and tips that reaches beyond the scope of illustrating. For you people that enjoy painting with real paint will get a lot of hands on tips and us digital boys will appreciate his view on the craft and how to keep the steam up.The book itself is made in good quality and the pictures are large and well printed. Also, the design of the book is superb.