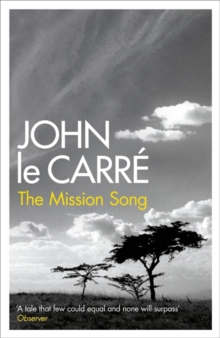 The Mission Song
Paperback
Description
Bruno Salvador has worked on clandestine missions before.
A highly skilled interpreter, he is no stranger to the Official Secrets Act.
But this is the first time he has been asked to change his identity - and, worse still, his clothes - in service of his country.Whisked to a remote island to interpret a top-secret conference between no-name financiers and Congolese warlords, Salvo's excitement is only heightened by memories of the night before he left London, and his life-changing encounter with a beautiful nurse named Hannah.
Exit suddenly, the unassuming, happily married man Salvo believed himself to be.
Enter in his place, the pseudonymous Brian Sinclar: spy, lover - and perhaps, even, hero.
Information
Format: Paperback
Pages: 384 pages
Publisher: Hodder & Stoughton General Division
Publication Date: 01/07/2007
Category: Espionage & spy thriller
ISBN: 9780340921999
Free Home Delivery
on all orders
Pick up orders
from local bookshops
Reviews
Showing 1 - 3 of 3 reviews.
Review by reading_fox
16/06/2015
Not one of his best works. Half-caste Bruno Salvador prtly hails from teh Eastern Congo, and has a very skilled facilty with languages that make him ore thanjust a translater but a valued interpreter. A Catholic background has prepared him to serve his country and so he offers his skills to HMG in the translation of radio intercepts. One day his boss recommends him for a more active role. To Bruno's great delight this interpretaing for some delegates planning a mission of mercy in the eastern Congo, with the added bonus of a few mining concessions. However what he learns doesn't please him and his naiveity is stuning.A very ntypical read, this is le carre in is lightest and most accessible manner, A cheerful happy dialog keeps the plot roling along, much unlike his more normal heavier works. It also means there is very little intregue. Told in a fairly strict first person view the observations and African backgrounds are charming, but verall could have done with quite a bit more depth.
Review by TheoClarke
16/06/2015
Disappointing novel with an interesting premise diminished by its implausible plot. The protagonist was engaging and interesting but his circumstances were not credible. Worse than that, the whole thing was unmemorable: I was lent a second copy by an enthusiastic friend and, although I recognised the plot as it unfolded, it took me some time to recall the plot and I felt no sense of loss as I abandoned the rereading.
Review by Caralj
16/06/2015
While almost everyone who has reviewed this novel by LeCarre was disappointed by his non-Smiley, main character, Bruno Salvador (Salvo), I loved the fact that it was far removed from his other, cold, distant Smiley novels! What first got my interest was the fact that the protagonist was an interpreter (I am one also!)---not the usual MI-6 character. Still the novel was intriguing, a bit complicated at times with the back-and-forth but revealing a little more about his main character all the way to the very end.Yes, it is a bit of a removal from his earlier novels, but that is precisely why I liked it! It shows that LeCarre can write outside of his usual USA-British-Russia spy novels.Lovely writing and took me at a olympic bobsled speed throughout the novel.