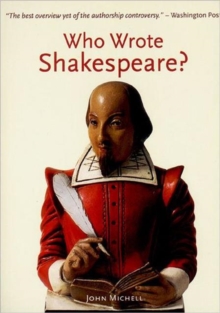 Who Wrote Shakespeare?
Paperback
Description
Was the famous poet and writer really a fraud and plagarist?
Was his name really a pseudonym for a well-known contemporary figure?
These questions have been debated since the 18th century.
The facts about Shakespeare are surprisingly meagre, and contrast puzzlingly with the learned, courtly philosopher revealed in the sonnets and plays.
Respected scholars and obsessive eccentrics have put forward many theories, suggesting that the works of Shakespeare were written by Francis Bacon, the Earl of Oxford, or Marlow.
This is an investigation of the claims and counter-claims, reading like a series of detective stories.
He lays out the evidence and the arguments for the various candidates, not forgetting Shakespeare himself, and provides a drily humorous commentary on the research and prejudices of their champions while adding insights of his own.
Information
Format: Paperback
Pages: 272 pages, 116 illustrations
Publisher: Thames & Hudson Ltd
Publication Date: 19/04/1999
Category: Shakespeare studies & criticism
ISBN: 9780500281130
Free Home Delivery
on all orders
Pick up orders
from local bookshops
Reviews
Showing 1 - 1 of 1 reviews.
Review by brokenangelkisses
16/06/2015
When I felt a fledgling desire to explore the issues surrounding the authorship of Shakespeare's plays, I quickly decided that I could do much worse than start with a novel labelled 'the best overview yet of the authorship controversy' by the respectable Washington Post. Since my interest was born out of idle curiosity, rather than burgeoning belief in any particular conspiracy theory, I felt that an overview of the current state of affairs sounded perfect. I'd never previously heard of John Michell, but a 'quick scan' of this book in Waterstones led to me getting deeply engrossed in the evidence the author had to offer. I found this equally easy to read when I bought it home and completed it within a few days as I waited to discover Michell's conclusion. Was Shakespeare really the 'upstart crow' or the 'poet ape' his contemporaries suggested? Or, was he, as current orthodoxy has it, England's greatest literary genius?Now I have a rather shocking confession to make. As a pupil, student and finally teacher of English language and literature, I have never fallen in love with Shakespeare. (Cue horrified shrieks and gasps of 'can we trust her to educate our children?' (You can, you know, although I admit to being fond of encouraging debate throughout the curriculum.)) Yes, he's a universal genius. Yes, his plays are as timely today as they ever were. I knew all of this, except that I didn't know it, not really. I knew it in much the same way that I know gravity exists: if I drop a glass, it falls (and usually smashes, damnit,); if I mention Shakespeare, someone reflexively splutters 'genius, the greatest genius in English history…in world history…ever!' Yes, I'd read several of the plays, even studied some of them, but personally I tended to prefer dramatists like Tenessee Williams, where I really believed in and felt for his characters and their situations. Where is she going with all this, you begin to wonder. Well, while reading this book, it was the first time I ever felt convinced that Shakespeare was a genius. As Michell clearly outlined the scope of Shakespeare's knowledge and showed how he was regarded in a wide range of fields, including seamanship, law and the classics, I discovered a new respect and genuine belief in this man's genius welling up in me. For someone who has always felt like a bit of a heretic – a bit like someone who dares to claim not to really like chocolate or ice cream (I mean, are they normal???) then really enjoys a soft, sweet slice of triple chocolate cake – it was a lovely moment. Personally, I'd have bought the book for this revelation alone. But, delightfully, there was more.After carefully outlining Shakespeare's many virtues and skills, Michell then outlined the 'normal' biography of 'William Shakspere', the actor and business man who has become irrevocably associated with the talented playwright of the same name. Developing the investigation in this manner allowed the questions to show up starkly. How did a man so thoroughly business minded create such noble minded plays? Why did nobody mourn Shakspere's passing in 1616? Gradually, the conspiracy deepens. Could Shake-speare be a pseudonym for a somebody (or bodies) else? If so, who?I won't include many details about the ground Michell covers, or there'd be less point in reading the book. Suffice it to say that he covers objectively each of the main candidates for the man behind the proposed mask. In doing so, he treats each case so gently and in such a balanced manner that I felt my convictions swaying towards each candidate in turn! In each chapter, Michell presents the case for the candidate, including their main proponents and a brief timeline of their life, then explores the objections or problems besieging their candidature, and finally offers a concise summary of the situation. In fact, a criticism of this book has been that, although he doesn't cover the more, shall we say, "unusual" candidates (such as Queen Elizabeth I), Michell is so understanding that some feel he lets the lunatic fringe wear too respectable a hat. To answer this, I would demur that I am perfectly capable of spotting a lunatic theory (having your surname in one sonnet means you must be the author of them all, right?) and actually prefer not to have somebody jump up and down shrieking 'look how mental this guy was!'The writing moves along at a nicely relaxed pace, exploring the candidates in a useful, but not at all sleep-inducing, amount of depth, and usually in an interesting manner – although I did lose interest briefly at points where Michell really went into detail about a signature or cipher, after I felt I'd got the point. Another criticism has been that the author repeats himself at points, but this is occasional and minor. Besides which, by about the fourth candidate, it is quite pleasant to hear how they fit beside previous candidates. This is also useful once Michell reaches the group theories, which posit that Shakespeare was written by a shifting multitude of skilled Elizabethan writers with a government-friendly agenda. It would be slightly sad if Shakespeare, or, as his works were usually published, 'Shake-speare', did turn out to be propaganda for the Elizabethan masses, but it wouldn't really detract from their scope and power. I found this the most convincing theory, although I do not yet feel knowledgeable enough to draw the magic circle or attribute specific plays to particular writers.Michell's own conclusion is a tempting one, although it is presented very provisionally. He sketches a picture of the shrewd Shakespere stitching together plays that his contemporaries wanted published anonymously. Obviously, to create convincing whole plays in this manner still allows for the man from Stratford to demonstrate significant skill, while recognising that there was no one universal genius. This would seem a fairly inoffensive conclusion, but it is clear from the author's references to other writers in this arena that the authorship question is decidedly fraught, with the most orthodox ('Stratfordians') denying that there is a question at all. After reading this volume, I feel much more informed about the whole debate. The style is easy to follow and usually not too 'scholarly', but key historical figures are suitably outlined. The bibliography is useful, though perhaps some direction towards those which Michell found most illuminating would be helpful.Would I recommend this book? Unreservedly – as long as the reader is unfamiliar with the debate. I felt this was a very useful introduction to the topic, and I may well complete further reading around the issue at a later point, but Michell does not reach any new and shocking conclusions. In fact, he is refreshingly unbiased. This is an overview of the current literature, evidence and opinions on the topic, but it does not formulate new theses or posit new developments. More advanced readers in this area might therefore feel that the book has little to offer them. Then again, it is useful to have the positions and reasons so clearly stated. My final thought is that Michell has been criticised for daring to discuss such a topic without a background in Elizabethan literature/theatre/history. Perhaps this absence may have affected his writing; more likely, it made him more careful in checking his findings before publishing. And, of course, this is ultimately an overview of the topic: if we are tempted to do more than dip our toes into the depths of this murky mystery, then we must journey further as best we can.