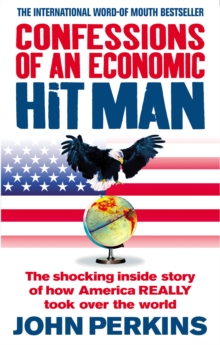 Confessions of an Economic Hit Man
Paperback
Description
As an Economic Hitman (EHM), John Perkins helped further American imperial interests in countries such as Ecuador, Panama, Indonesia and Saudi Arabia.
As Chief Economist for the international consulting firm Chas.
T. Main, he convinced underdeveloped countries to accept massive loans for infrastructure development and ensured that the projects were contracted to multinational corporations.
The countries acquired enormous debt, and the US and international aid agencies were able to control their economies.
He tried to write this book four times but was threatened or bribed each time to halt.
The events of 9/11 - a direct result of the activities of EHMs in the 1970s - finally forced him to confront the role he played himself, and to reveal the truth to the rest of the world.
Confessions of an Economic Hit Man has become a word-of-mouth bestseller in the US.
It has been called the book that finally 'connects the dots, the book that best explains what is really going on in the world'.
Information
Format: Paperback
Pages: 272 pages
Publisher: Ebury Publishing
Publication Date: 24/09/2005
Category: Biography: business & industry
ISBN: 9780091909109
Other Formats
Paperback from £10.19
PDF from £16.46
EPUB from £16.46
Free Home Delivery
on all orders
Pick up orders
from local bookshops
Reviews
Showing 1 - 4 of 4 reviews.
Review by woollymammoth
16/06/2015
About a Economic Graduate who was employed by the US government to convince third world countires that they needed large loans. The sort book that makes me want to rejoin the SWP.
Review by aliciamalia
16/06/2015
I hated this book. Finishing it was painful. Perkins clearly has a point to make: if you miss it the first time, don't worry, he'll say it again. And again. And then 10 times more in the next chapter. Basically it goes like this: "What I and other economic hit men do is terrible. We're awful people. We fly to exotic lands first class and hang out with world leaders. Because of our jobs we exploit the people of third world countries. Did I mention that I spent time with world leaders? Let me tell you how cool it was the time I hung out with Fidel Castro." And repeat.
Review by stephenmakin
16/06/2015
I read this for our book group. Jade suggested it, she's an accountant. I have to admit I found it really easy to read, and not at all dry at all. I just didn't really believe the guy. I"m not sure why. But for some reason I just didn't believe his story. Yes I believed that people did all this, but I'm not sure that it was recruited by the government. Still maybe it was.
Review by bbbart
16/06/2015
Perhaps not so well written, but otherwise an absolute must-read. The book gives great insight in the current state of the world. Without falling in the `it's all a big conspiracy'-trap, John explains how the Western world is really organised.<br/><br/>Warning: the contents of this book do make you feel bad.