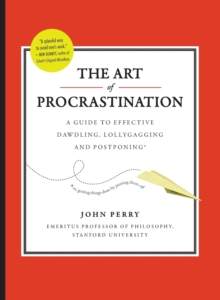 The Art of Procrastination : A Guide to Effective Dawdling, Lollygagging, and Postponing, Including an Ingenious Program for Getting Things Done by Putting Them Off
Hardback
Description
Procrastination - just about everyone has struggled with it.
This charming, highly readable book by an internationally recognised Stanford philosopher offers a new outlook: instead of focusing on your deficits, recognise the myriad things that you do accomplish while avoiding "the important project." Laced with stealth advice that you can put to use, it's funny, wise, and useful to boot.
John Perry's insights and laugh-out-loud humour bring to mind Thurber, Wodehouse, and Harry Frankfort's On Bullshit.
This very readable book educates, entertains, and illuminates a universal subject.
Procrastinators will be relieved to learn that actually you can accomplish quite a lot while procrastinating.
In fact, the book itself is the result of Perry avoiding grading papers, refereeing academic proposals, and reviewing dissertation drafts.
It also has a practical side, offering up advice that readers can put to use.
Who knew that placing "Learn Chinese" at the top of your to-do list would inspire you to get the less monumental tasks below it done?
Witty, wise, and beautifully written, "The Art of Procrastination" will make the perfect gift for the untold number of lollygaggers out there.
Information
Format: Hardback
Pages: 96 pages, black & white line drawings
Publisher: Workman Publishing
Publication Date: 28/08/2012
Category: Self-help & personal development
ISBN: 9780761171676
Free Home Delivery
on all orders
Pick up orders
from local bookshops
Reviews
Showing 1 - 5 of 7 reviews.
Previous | Next
Review by timtom
16/06/2015
This is an amusing read, if only because all of its readers probably used reading it as an excuse to not doing anything more useful, and it's nice not to feel alone in such moments. Which is precisely the only reason why this book was written: to reassure procrastinators that they are not alone and that most of the time they still get things eventually done. That's nice, but I doubt that there remains a single procrastinator on this planet who is unaware that his plight is shared by a large population.
Review by everfresh1
16/06/2015
Very funny and at the same time very insightful. That I can say as a real 'structural procrastinator'. Don't expect any revelations how to overcome your procrastination. I think author gives a few helpful small points, but I am not sure how helpful they are. Still very interesting and entertaining work in very small package (another plus)
Review by SqueakyChu
16/06/2015
For great laughs and a mirror image of myself, I found this book startling. Stanford philosophy professor John Perry explained why procrastinators are those who actually get things done and why. I now feel better about myself. At least I'm not alone. In a constructive way, the author explains how individuals can deal with procrastination in order to move forward and lessen personal guilt. This is just such hilarious reading, I cannot help but recommend this book for everyone whether or not readers self identify as procrastinators.
Review by Sullywriter
16/06/2015
I've been meaning to read this for a while but kept putting it off. Several times while reading this book I had the eerie feeling the author was writing about me.
Review by viviennestrauss
27/08/2015
I know it appears that it took me more than two years to read this book (started May of 2013) but after reading the opening chapter, I misplaced the book in our upstairs bedroom. I found it today while reorganizing my library and instead of continuing to move books up and down a flight of stairs, I chose to sit down and read this book, cover to cover. What a delight! It was highly amusing and good to give names to things I've been doing my whole life. What Perry refers to as "structured procrastination", I had already named "productive procrastination". What I did not know, is that I am a horizontally organized person rather than vertical as is with most structured procrastinators. Fun reading and it took serious discipline to not stop between chapters and google things I hadn't heard of before. Those were put on my to-do list for days when I want to avoid doing what I should be doing.