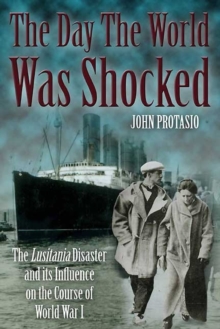 The Day the World Was Shocked : The Lusitania Disaster and its Influence on the Course of World War I
Hardback
Description
By far the most controversial sinking during the First World War was that of the Lusitania.
As opposed to the loss of the Titanic several years earlier, which could be attributed to nature, the destruction of the passenger-liner Lusitania came at the hands of a German U-boat, one of many which infested the Atlantic at the time seeking destruction.
Over 1,200 people perished in this attack, including citizens from the then neutral United States of America.
Although America did not declare war over this incident, the repulsion over needless loss of life put the country in psychological terms on an inexorable path toward intervention in Europe.
Many questions, however, rage to this day. Was the liner armed? Did she carry contraband (munitions) in a secret effort to aid the Allies?
Did the Germans set out from the start to sink this ship?
Did the supposedly protective Royal Navy deliberately allow the Lusitania to be sunk in order to draw the United States into the war?This book answers these and other questions surrounding this emotionally charged sinking.
It traces the story from the time of the vessel's construction to her demise, while providing a real-time look at the chaos on board once German torpedoes had shattered the ship. And what of the U-boat commander, who may either have made the greatest mistake in history, or had just been performing his duty?
This account deals with the diplomatic repercussions of the sinking while at the same time examines the human side of the story. John Protasio has here provided an expert account and analysis of the sinking that swayed a nation-in fact, the world-into a new era, as the United States finally found that it could no longer hide behind its oceans, and instead felt compelled to assert itself as a global power.
Information
Format: Hardback
Pages: 256 pages, 16-pg photo section
Publisher: Casemate Publishers
Publication Date: 15/11/2010
Category: European history
ISBN: 9781935149453