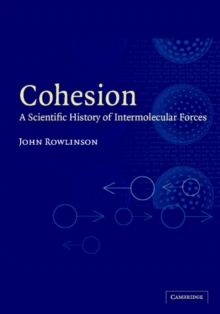 Cohesion : A Scientific History of Intermolecular Forces
Hardback
Description
Why does matter stick together? Why do gases condense to liquids, and liquids to solids?
This book provides a detailed historical account of how some of the leading scientists of the past three centuries have tried to answer these questions.
The topic of cohesion and the study of intermolecular forces has been an important component of physical science research for hundreds of years.
This book is organised into four broad periods of advances in our understanding.
The first three are associated with Newton, Laplace and van der Waals.
The final section gives an account of the successful use in the twentieth century of quantum mechanics and statistical mechanics to resolve most of the remaining problems.
The book will be of primary interest to physical chemists and physicists, as well as historians of science interested in the historical origins of our modern day understanding of cohesion.
Information
Format:Hardback
Pages:342 pages, 14 b/w illus.
Publisher:Cambridge University Press
Publication Date:19/09/2002
Category:
ISBN:9780521810081
Also by John Rowlinson