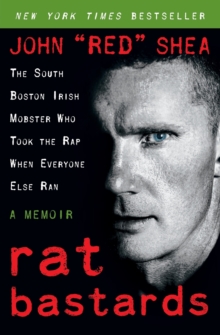 Rat Bastards : The South Boston Irish Mobster Who Took the Rap When Everyone Else Ran
Paperback / softback
Description
John "Red" Shea was a top lieutenant to South Boston's top Irish mobster, Whitey Bulger, and was the only guy to walk the walk and take the rap when the mob boss and his fellow rats turned and ran.
Shea did twelve years of hard time in order to maintain his personal dignity and sense of integrity. "Rat Bastards" was the first-ever, firsthand account of mob life that wasn't told by a rat.
Red Shea did his crime, then did his time - and never informed, unlike Henry Hill of Wiseguy, Sammy "The Bull" Gravano of Underboss, and so many others.
Holding fast to the code of his upbringing, he remained a man of honour.
That's why, even today, in Boston, Red Shea remains an iconic figure.
He is the last stand-up guy.
Information
Format: Paperback / softback
Pages: 320 pages
Publisher: HarperCollins Publishers Inc
Publication Date: 01/02/2007
Category: True crime
ISBN: 9780061232893