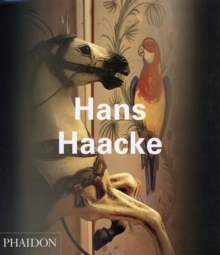 Description
Born in Cologne in 1936 and based in New York since 1965, Haacke's strong political, cultural and social concerns are reflected in his installations, texts and sculptures.
Throughout his 50-year career Haacke has frequently changed the presentation of his art to get his message across.
Often borrowing from non-art sources such as corporate advertising, questionnaires or scientific experimentation, Haacke is probably the most successful and best-known late twentieth century artist to create political art that manages to hit its mark with such concision and elegance.
Haacke sometimes works like a sleuth, uncovering the art world's hidden politics and economics.
This practice has famously led to museum officials cancelling his exhibitions.
His 1971 solo show at the Solomon R Guggenheim Museum, New York, for example, was cancelled in response to his proposal to present the questionable real estate dealings of several New York companies.
Haacke is a unique figure in post-war art, and his work has touched on such diverse movements as Conceptual, Pop, Minimal and Land art.
Highly respected as a writer and thinker, his integrity as well as the formal innovations of his art have proven hugely influential for many generations of contemporary artists via exhibitions at such museums as the Tate Gallery, London (1984), the New Museum of Contemporary Art, New York (1986), and the Centre Pompidou, Paris (1989). German art historian Walter Grasskamp surveys the artist's career with an emphasis on the innovations he has brought to the notion of public art.
In the Interview, American art historian Molly Nesbit discusses with the artist his working practices and his sometimes turbulent relationship with the art world.
London-based critic Jon Bird focuses on Mixed Messages, Haacke's presentation of works from the collection of London's Victoria and Albert Museum and Serpentine Gallery.
The Artist's Choice, excerpts from Writing the Truth: Five Difficulties by Bertolt Brecht, reflects Haacke's approach to his own work.
The Artist's Writings include an excerpt from Free Exchange (1995), his book-length conversation with Pierre Bourdieu, and an essay on his controversial project for the Reichstag in Berlin (1999-2000).
Information
Format: Paperback
Pages: 160 pages
Publisher: Phaidon Press Ltd
Publication Date: 01/05/2004
ISBN: 9780714843193
Free Home Delivery
on all orders
Pick up orders
from local bookshops