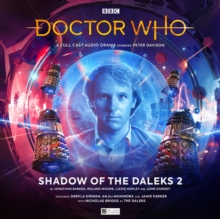 Doctor Who The Monthly Adventures #270 - Shadow of the Daleks 2
CD-Audio
Description
This is the second part in a story split across two releases (the first being Shadow of the Daleks 1 releasing November 2020) recorded and produced entirely during the covid-19 lockdown.
Together, the two releases make up a 'mini-season' for Peter Davison's Fifth Doctor as he is caught up in the Time War.
Each part contains four one episode adventures, in which the Doctor lands in different times, different places and keeps meeting the same faces, but a different people. 1. The Echo Chamber by Jonathan Barnes. It's the radio talk show where everyone's free to call in with their opinions.
Time to welcome its host - the Doctor! 2. Towards Zero by Roland Moore. The Doctor Finds himself in an old country house where he has to solve a very unusual murder - his own! 3. Castle Hydra by Lizzie Hopley. Nearing the end of his journey, the Doctor enters a jail filled with familiar faces.
But who are the prisoners and who are the wardens? Effect and Cause by John Dorney. A crash in the vortex leads the Doctor to the source of all his troubles, and to the Daleks.
The answers are here. If he can live long enough to find them. CAST: Peter Davison (The Doctor), Nicholas Briggs (The Daleks), Dervla Kirwan (Pellent Glommeration) Representative/Agatha Fernbridge/Professor Callis/Kelleher), Anjli Mohindra (K'Marree-943/Jennifer Huxley/Myorrah/Alice/Milal), Jamie Parker (Brian/Jasper Fernbridge/Torrence/Sandar), Glen McCready (AdvertisingVO/Todd/Maran).
Other parts played by members of the cast
Information
Format:CD-Audio
Publisher:Big Finish Productions Ltd
Publication Date:31/12/2020
Category:
ISBN:9781838680145
Also in the Doctor Who The Monthly Adventures series | View all