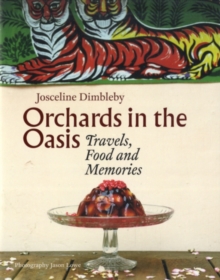 Orchards in the Oasis : Travels, Food and Memories
Hardback
Description
Winner of the Guild of Food Writers Kate Whiteman Award for Work on Food and Travel 2011 Celebrated cookery writer Josceline Dimbleby is widely credited with introducing new ways of using spices to the domestic kitchen.
This enchanting memoir explores the food influences of her rich and varied life and provides an outstanding collection of exciting recipes.
As an itinerant child with a diplomat stepfather, Josceline spent much of her time in the kitchen - in a succession of different countries - watching cooks transform food with spices and herbs.
As a consequence, she acquired not only a taste for food but also a passion for discovering other lands and different cuisines.
From Syria to Morocco, from North America to Burma and Laos, her adult life built on and broadened her early gastronomic experiences.
She found that her astonishing memory of tastes - together with her natural ability to combine flavours and textures harmoniously - enabled her to create very personal interpretations of dishes she had eaten around the world. Orchards in the Oasis is Josceline's absorbing account of her lifelong love affair with food and flavourings. It is interspersed with 75 inspiring but accessible recipes from the diverse cuisines she has experienced on her travels: Rose petal tart from Syria, Peruvian potatoes, Bosphorus mussel stew, Marrakesh meatballs and Chicken noodle hotpot from Vietnam.
Evocatively illustrated with mouth-watering food photography and the author's personal photographs of her travels, it is, indeed, an irresistible memoir.
Information
Format: Hardback
Pages: 224 pages, 130 colour photographs, 100 black and white photographs
Publisher: Quadrille Publishing Ltd
Publication Date: 01/10/2010
Category: Memoirs
ISBN: 9781844008483
Free Home Delivery
on all orders
Pick up orders
from local bookshops
Reviews
Showing 1 - 2 of 2 reviews.
Review by nicx27
16/06/2015
This is a very pleasant book to look at. It's got lots of photographs in it (matt, not glossy) which are lovely to look at. This is a memoir/travel book, with recipes and food memories thrown in. I have to say that it was all a little bit too exotic for me and I wasn't as interested in her travel experiences as I may have been in somebody else's. Also, the recipes were for nothing that I would ever want to cook (with the exception of shepherd's pie and a couple of the cakes/desserts). This is a nice book but not for me personally.
Review by presto
16/06/2015
I've been a great fan of Josceline Dimbleby as a cookery writer since her "A Tastes of Dreams" well over thirty years ago. Well the passage of time has I no way diminished her skills, and this latest offering is brim full of interesting and appealing dishes.I must admit I was initially a little wary of "Orchards in the Oasis", described as it is as "recipes, travels and memories", thinking perhaps the recipes would be taking second or third place. But this is not so, almost every other page contains a recipe, it is still very much a cookbook in the true sense.As for the recipes, well I was going to list some of the more interesting ones, but soon found I would end up listing the entire contents of the book, everyone looks and sounds truly delicious, I want to try them all. I will just mention one though, and that is an old favourite, Queen of Puddings, but here with a new twist and is aptly named Goddess of Puddings - check it out. The recipes originate from all parts of the world, but are usually presented in the author's own version, and all seem to be straight forward and sensible, and use readily available ingredients.In addition to the enticing photographs of the dishes, the book is crammed with photographs from Josceline Dimblely's travels and of course her memories, which do make interesting reading, if you can tear yourself away from the recipes.