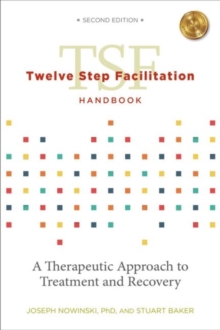 Twelve Step Facilitation Handbook without CE Test : A Therapeutic Approach to Treatment and Recovery
Paperback / softback
Description
Research proves that belonging to a Twelve Step Fellowship group increases the chances of long-term recovery from addictions and is also helpful with treating compulsive behaviors and mental health disorders.
Twelve Step Facilitation (TSF) is an evidence-based approach that together with active involvement in a Twelve Step group helps individuals succeed as they move from treatment into recovery. Listed on SAMHSA's National Registry of Evidence-based Programs and Practices (NREPP), the Twelve Step Facilitation program, which includes Twelve Step Facilitation Handbook, is an invaluable resource for understanding the effectiveness of the Twelve Steps and showing the importance of outcome-based treatment in modern health care.
Beginning with a history of Project MATCH, this handbook introduces the scientific basis for TSF and goes on to highlight new research, describe the program's theoretical applications, and explain new features included in this second edition.
Includes:Explanation of revised session topicsAdvice for common misconceptions about TSFGuidance on volunteer- and peer-led facilitationRecommendations for individual and group administrationApplications for all substance use disorders and compulsive behavior
Information
Format: Paperback / softback
Pages: 216 pages
Publisher: Hazelden Information & Educational Services
Publication Date: 30/01/2018
Category: Addiction & therapy
ISBN: 9781616497668