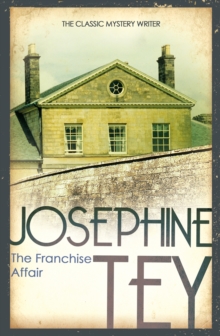 The Franchise Affair
Paperback
Description
Marion Sharpe and her mother seem an unlikely duo to be found on the wrong side of the law.
Quiet and ordinary, they have led a peaceful and unremarkable life at their country home, The Franchise.
Unremarkable that is, until the police turn up with a demure young woman on their doorstep.
Not only does Betty Kane accuse them of kidnap and abuse, she can back up her claim with a detailed description of the attic room in which she was kept, right down to the crack in its round window.
But there's something about Betty Kane's story that doesn't quite add up.
Inspector Alan Grant of Scotland Yard is stumped. And it takes Robert Blair, local solicitor turned amateur detective, to solve the mystery that lies at the heart of The Franchise Affair...
Information
Format: Paperback
Pages: 288 pages
Publisher: Cornerstone
Publication Date: 06/08/2009
Category: Crime & mystery
ISBN: 9780099536833
Other Formats
EPUB from £4.99
Paperback from £6.95
Free Home Delivery
on all orders
Pick up orders
from local bookshops
Reviews
Showing 1 - 4 of 4 reviews.
Review by Smiler69
16/06/2015
Robert Blair is a sedate solicitor and the current head of a well established and respectable family firm in a small English town. He lives a quiet and predictable life and is content living with his aunt who feeds him well. One day, he receives a surprising phone call from Marion Sharpe, the current resident of The Franchise, a old and run down house just at the outskirts of town. She asks him for help in a strange case in which a young girl by the name of Betty Kane accuses Ms. Sharpe and her mother of having kidnapped her, imprisoned her in their attic and beaten her repeatedly, presumably in an attempt to induce her to become their servant. As strange and unlikely as the case may seem, the girl has a blameless reputation and is able to describe the house down to it's tiniest details to Scotland Yard, while the Sharpes on the other hand are none too popular in their small town. All the same, our solicitor decides the accused women cannot have committed such horrific acts and he sets out to prove their innocence. I had heard many good things about Josephine Tey, and they were all true. He characters are unusual, and there are plenty of strange elements which kept this reader on her toes. Although this is the third book in the Allan Grant series, he plays a very minor role in this novel, which makes it as good a start as any. Highly recommended.
Review by LARA335
16/06/2015
A 'how done it'. First published in 1949, this seems strangely contemporary, dealing as it does with being judged by the press and public opinion.
Review by konallis
16/06/2015
Well written, at the phrase and sentence level, and opens intriguingly, but becomes an unpleasant read as the pages go on. It has the usual irritants of the Golden Age - class snobbery, sexism, the desperate conservatism of a passing social world - to an irksome degree.A teenage girl claims that two women, vulnerable outsiders in the local community, abducted and beat her. The hero-detective is convinced that the women are innocent, that the girl is a liar and, furthermore, that the girl is a fast little trollop, using the abduction story as cover for some indiscretion of her own. And so it proves. There are no twists. No errors in judgement. Just Good Middle-class Woman vs. Lying Little Trollop.Lavishly mixed in are swipes at the kind of beyond-caricatured bleeding-heart liberals who exist only in the mind of tabloid columnists. Plus the cosiest affirmation of eugenics I've so far seen in a post-war novel.
Review by RubyScarlett
16/06/2015
Tremendously good read and I never expected that from the summary - the tale of two women being framed for a brutal kidnapping seemed incredibly far-fetched to me but I'd loved Miss Pym Disposes by the same author so I thought I might as well see if the rest of her work was as good.<br/>Well, it is, and then some. Her writing is astonishing. The book isn't thick but the amount of detail she manages to put in is quite stupendous. After reading a particularly well-written passage, I often caught myself thinking 'I feel completely different about this character than I did two pages ago, how did she do this?' A great deal of her genius has to do with knowing her characters inside out - not two characters in this are the same and they all have a very distinctive voice. We might follow Robert but I know as much about the Sharpes and Aunt Lin. This is also a masterpiece of a mystery novel - until very late in the book, the author makes sure we just don't know whether or not the Sharpes are guilty and since we spend so much time with them and they're so endearing, it's quite a feast. The investigation is realistic and suspenseful and Tey's sense of timing is impeccable - she does know when to drop us a bone and when to leave us in the dark, it's incredible. The end trial could have been a case of deus ex machina if it weren't so well crafted and it becomes not only plausible but the only solution to the plot. The end is interesting and totally unexpected like the rest of the book - the romance hinted at throughout the novel finds a very unusual open-ended conclusion and I loved that. I can't tell you how vivid and deeply witty Tey's writing is - I will not only miss Marion, Mrs Sharpe and Robert but I'll really miss The Franchise, too. You're left with a very good impression of what everything and everyone is and closing the book is like parting with friends. Amazing author - I'll never doubt her again.