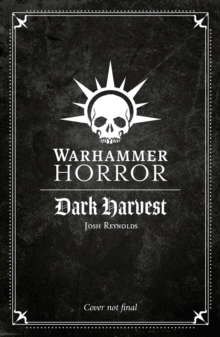 Dark Harvest
Paperback / softback
Description
A nightmarish Warhammer Horror novel set in the Warhammer 40,000 universe . Harran Blackwood was a priest of Sigmar, full of righteous fury and zeal.
Now, he's an embittered drunk, scraping a living on the edges of society.
Blackwood haunts the back-streets of Greywater Fastness, offering his services to those who can't - or won't - go to the proper authorities.
While Blackwood's faith has long since guttered to nothing, he still retains his knowledge of the workings of evil, something that comes in handy on the fringes of society. Blackwood receives a letter from an old friend - a plea for help to find his friends missing daughter.
So begins Blackwood's journey to the isolated village of Wald, a community unwelcoming of outsiders and with secrets to hide.
What Blackwood finds there threatens more than just his life - it threatens his very soul...
Information
Format: Paperback / softback
Pages: 368 pages
Publisher: Games Workshop
Publication Date: 12/12/2019
Category: Horror & ghost stories
ISBN: 9781781939611
Also in the Warhammer Horror series | View all