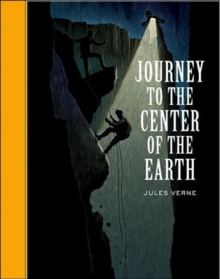 Journey to the Center of the Earth
Hardback
Description
What a stunning discovery: an old, coded note that actually contains directions for reaching the Earth's very core! And once he finds it, renowned geologist Professor Liedenbrock can't resist setting out with his 16-year-old nephew to go where only one man has gone before.
Jules Verne takes young readers on one of the most incredible journeys ever imagined, from Iceland's frozen tundra far down into fantastic underground prehistoric worlds and back up again through the fires of an erupting volcano.
Information
Format: Hardback
Pages: 256 pages, b/w illustrations
Publisher: Sterling Juvenile
Publication Date: 01/11/2007
Category: Classic
ISBN: 9781402743375
Other Formats
Hardback from £5.09
EPUB from £2.40
Paperback from £2.99
Paperback / softback from £5.95
eAudiobook MP3 from £17.47
Free Home Delivery
on all orders
Pick up orders
from local bookshops
Reviews
Showing 1 - 2 of 2 reviews.
Review by strandbooks
16/06/2015
This one is difficult for me to review and rate since I'm not much of a sci-fi fan. I can appreciate that this probably started the genre, and that Jules Verne is a great storyteller. However, my eyes kept glazing over when they'd get to the scientific parts. My favorite part was how he created a Jurassic Park-like setting in the middle of the earth. I'll probably give Around the World in 80 Days a try because it seems pretty different than this one.
Review by jasonpettus
16/06/2015
(Reprinted from the Chicago Center for Literature and Photography [cclapcenter.com]. I am the original author of this essay, as well as the owner of CCLaP; it is not being reprinted illegally.)A couple of years ago, when I did a write-up of Jules Verne's <I>20,000 Leagues Under the Sea</I> for the "CCLaP 100" essay series, I heard from a number of his fans that part of the reason I found it rather lackluster was because of the free but ancient translation I had read, and that Verne is one of those cases where it really pays to seek out and even purchase the most recent translations that you can find. And that's because it's only been in literally the last 20 or 30 years, since genre work has really started gaining academic respect, that we've even wanted to go back and explore the beginnings of things like science-fiction or crime novels, and to apply a scholarly eye to such original material; but for a century before that, the dozens of fantastical titles put out by someone like Verne were considered by most to be the literary version of throwaway kiddie shows, pumped out quickly and cheaply to soon part an adolescent from his allowance money at the corner drugstore on a Saturday afternoon, and usually translated on the fly by overworked copyeditors who could care less if they were successfully capturing the subtleties of the original text.So I was glad to recently come across <I>Amazing Journeys: Five Visionary Classics by Jules Verne</I>, a new collection of some of his most famous novels, edited and translated by the quite obvious slavish fan and full-time scholar Frederick Paul Walter, put out in a plain but professional oversized edition and containing all the books' original illustrations. And indeed, as I learned while reading through these 'Anglicized' new translations (i.e. they feature standard measurements and Fahrenheit temperatures), Verne's work at its best contained a kind of dry humor and political awareness that we in the English-speaking world rarely equate with the French speculative pioneer, with dialogue that's not nearly as histrionic as we've come to think of it in books like these, which to be fair really were pumped out originally on a fairly quick basis mostly for the amusement of children and the working class, a series of 54 novels known as the "Extraordinary Voyages" that publisher Jules Hetzel built an entire little commercial empire around, and just like today with most of the duo's revenue coming not from the books themselves but rather the lucrative traveling stage adaptations that were often made of them. And in fact, a full reading of Verne's entire oeuvre remains a personal challenge that I will only tackle much later in life if at all, so I decided not to read even the full five tales collected here, and especially like I said since I had already read <I>20,000 Leagues</I> and didn't relish the thought of slogging through the entire thing again.So instead I read just two of the titles in this collection, starting with 1864's <I>Journey to the Center of the Earth</I>, one of Verne's first speculative tales after first being an opera librettist for years, while lying to his father the whole time and claiming that he was establishing a fine career in Paris as a young urban lawyer. And indeed, this early thriller shows off what I consider one of the modern main weaknesses of Verne's work, no matter how good the translation; that many of the fanciful scientific theories he proposed in his books have turned out over the decades to be just flat-out wrong, which means that we no longer have the ability to enjoy his work in the same way his contemporary audience did. (Don't forget, readers in the 1800s thought of Verne not so much as a sci-fi author but more like Michael Crichton, a brilliant futurist writing day-after-tomorrow tales about what life would really be like for their children.) Essentially the tale of an eccentric German professor, his nephew assistant and their silent Icelandic guide, as they literally climb down a volcano and discover a vast continent-sized system of caves below the Earth's surface, complete with their own bodies of water and rainclouds, it's hard not to roll one's eyes when watching our heroes stumble across forgotten dinosaurs and house-sized mushrooms, or ride a lava eruption back out to the surface at the end as if they were Victorian surfers; although the story definitely has its charms as well, especially when thinking of it now as pure fairytale fantasy, and with there being lots to enjoy in the cartoonish stereotypes that come with each of our various characters.Ah, but then after that, I skipped straight to the last story in this collection, and undoubtedly the most famous of Verne's career as well, 1873's <I>Around the World in Eighty Days</I>, which has been made into high-profile films several times now over the years, and which turned out to be a much better reading experience. Basically a gentle satire of British stiff-upper-lip determinism in the height of their Empire years, it starts with a group of upper-class gentlemen at a private London club discussing the latest innovations in world travel, with the reclusive and unflappable Phileas Fogg quietly insisting to his peers that a globe-spanning trip could now be realistically accomplished in a flat 80 days, even wagering what today would be two million dollars on the deal and agreeing to leave on such a journey that very night, armed with nothing but an overnight bag and his loyal French butler. And thus starts a rollicking adventure that indeed takes us around the world, spiced up by a British P.I. in Raj India who mistakes Fogg for a fugitive bank robber and tries to trip up his plans the whole rest of the way, and with the incredible journey involving such details as an elephant ride across central Asia, a sudden alliance with Chinese acrobats, a deliberately planned mutiny on a British sea vessel, a shootout with Native Americans on a train ride across the American Midwest, and a whole lot more. (Although let it be noted that the original book features no hot-air balloons, an invention of Hollywood that has become a famous trope of its own by now.)And in fact, I'm sure that a big reason why this succeeds so much more than <I>Journey to the Center of the Earth</I> is that, unlike the outdated speculative nature of the former, <I>Eighty Days</I> is a faithful and now historical look at just what it was like to really pull off world travel in the late 1800s, the first time in history it became commercially viable for anyone besides pirates and explorers to even do so. (And indeed, just a year before Verne wrote his novel, Thomas Cook led history's very first trip around the world designed specifically for tourists, only in their case taking seven months to complete instead of Verne's three.) And that makes the book charming and fascinating instead of eye-rolling, and especially when adding Verne's astutely funny comments regarding imperial aspirations, and of the self-satisfyingly civilized way the British liked to think of themselves during the height of the Victorian Age. (Unlike his reputation in later movies, much of the humor in the original book comes from the conservative, adventure-hating Fogg maintaining such complete composure in the face of such globetrotting chaos, spending the majority of his 80-day trip not enjoying the scenery but playing an endless series of card games with his fellow steamship and railroad passengers.) And that's a delight to read about even today, no matter how dated the actual mechanics of the story itself. (And in fact, gonzo journalists have been recreating the trip in a period-faithful way almost since the publication of the book itself, from an 1889 newspaper reporter to most recently comedian Michael Palin, just a few years ago for a BBC television mini-series.)So it was nice, I admit, to see what all these Verne fans were talking about, as far as the surprising loveliness of his original texts, that for so long have been hidden from us English speakers by shoddy translations; but also like I said, I'm not sure just how much of a general interest I have in Verne even with the new translations, making a sampler like this nearly perfect for the casual fan. It comes highly recommended, but be prepared for it to be one of those volumes you read in little doses here and there for years to come.Out of 10: <b>9.1</b>
Also in the Sterling Unabridged Classics series | View all