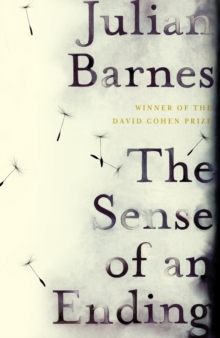 The Sense of an Ending
Hardback
Description
Winner of the Man Booker Prize for Fiction in 2011 Tony Webster and his clique first met Adrian Finn at school.
Sex-hungry and book-hungry, they would navigate the girl-less sixth form together, trading in affectations, in-jokes, rumour and wit.
Maybe Adrian was a little more serious than the others, certainly more intelligent, but they all swore to stay friends for life.
Now Tony is in middle age. He's had a career and a single marriage, a calm divorce.
He's certainly never tried to hurt anybody. Memory, though, is imperfect. It can always throw up surprises, as a lawyer's letter is about to prove.
The Sense of an Ending is the story of one man coming to terms with the mutable past.
Laced with trademark precision, dexterity and insight, it is the work of one of the world's most distinguished writers.
Information
Format: Hardback
Pages: 160 pages
Publisher: Vintage Publishing
Publication Date: 01/08/2011
ISBN: 9780224094153
Other Formats
Paperback from £6.65
EPUB from £4.99
Free Home Delivery
on all orders
Pick up orders
from local bookshops
Reviews
Showing 1 - 5 of 68 reviews.
Previous | Next
Review by roblong
16/06/2015
Very well written, a real pleasure, and intriguing in its ideas. When I got to the end I wasn't one hundred percent convinced by the actions of the narrator's ex-girlfriend when she had grown older, but that wasn't enough to detract from how good I thought the book as a whole was. Recommended.
Review by alexdaw
16/06/2015
I am a complete shocker and always judge a book by its cover. This book was kept aside for me as requested at our shiny new library (oh allright eight months old now but I still think of it as shiny). The book was shiny too. I like to think that I'm the first to read it. The plastic is all new and clean, the pages most delightful to turn - also clean and quite sophisticated I thought - edged in black - haven't seen that before - nice touch - elegant.At first I found it difficult to like the narrator who introduced us to himself and his "mates" as we would call them in Orstralia. The voice was, in a sense, self-deprecating, or at least acknowledging the awkwardness of adolescent youth - the need to belong and fit in, the desire to seem "cool", to be smart but not too smart, to be valued, to "score" - albeit in a 50s/60s awkward way with the threat of "pregnancy" ever-hovering. The book is divided into two parts and I got a bit of a shock when I came to Part Two. For a second I thought I had a book of short stories and that was it; I wasn't going to find out what happened. Aha ! I was hooked. Be careful of what you wish for. It's not a book of short stories...you do, in a sense, get to find out what happened. Or do you? This little tome is pregnant with possibilities.It's a bit difficult to say much more without giving away the plot but Barnes challenges us to examine our lives and our memory/opinions of ourselves and our conduct. I suspect this deceptively "small" tome is also a challenge to the British national character. And yes, I am talking about recent events though I'm not sure even Barnes could have envisaged or accounted for the latest batch of riots. But I reckon this book will go down a treat with bookclubs which need a good conversation starter. I found it particularly fascinating as I am studying Recordkeeping and am mulling over a quote from one of the characters quoting Patrick Lagrange "History is that certainty produced at the point where the imperfections of memory meet the inadequacies of documentation."Interestingly (and perhaps I am bone lazy when it comes to research - think Google) I cannot find a Patrick Lagrange...only a Joseph Louis Legrange who was a French mathematician (or was he really Italian?) At any rate...the plot just got thicker and I now ask myself...who is Patrick?
Review by thejohnsmith
16/06/2015
A short but satisfying novel in which the central character, Tony Webster, recalls his life. Its funny, sad and, in parts at least for me, familiar. Its a very well written work that is a pleasure to read.
Review by nocto
16/06/2015
There were five books I fancied reading off this year's Booker longlist - I read four before the shortlist came out and none of the four made the cut. This was the fifth. I'm pretty certain it is the favourite to win. (Yes, 6/4 at William Hill as I write this. But that's never much of a guide as the betting public (even on literary prizes) and literary judges are not made of the same stuff.) It's by far my favourite of the five. So on two counts I feel it's unlikely to win! This is a short book but it's not short on story, there's all kinds of layers of meaning and plot, and it's very elegantly written and makes a good read. There was one thing I thought was a bit ridiculous (without loading this writeup with spoilers: I really don't see how Tony was supposed to "get" the "it" in "you just don't get it, Tony"). And although that was integral to the story it didn't spoil the whole thing for me. Overall it was a really good book that I had no hesitation over giving five stars to.
Review by DubaiReader
16/06/2015
Review for the unabridged audio book.This book started out well, I was involved with the youthful Tony Webster and his school mates. It was as Tony aged that I lost sympathy with him. He seemed to become too melancholic, too wrapped up in his own past, and fifty years later, he is still obsessed with the rather unlikable Veronica, his girl-friend from University days.Spanning his sixth form and university years, many of his experiences evoked my own memories of a similar time. I struggle to recollect those years with any clarity and could quite relate to Tony's imperfect memories of that period in his life.However, the message this book wanted to put across was that what we remember may be faulty and quite different from what actually occurred. This theory, however, failed to prove itself to me because many of the facts that were revealed towards the end of the book, were not actually known to Tony anyway, so he could not have forgotten or misremembered them.In spite of a number of profound observations throughout the book, I felt myself losing interest and becoming annoyed with the narrative. Disappointing to feel this is only a 3 star read after its promising start.