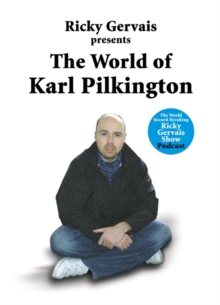 The World of Karl Pilkington
Hardback
Description
A collection of the best moments from the `Ricky Gervais Show' with further musings from Karl Pilkington, star of Sky 1's `An Idiot Abroad'.Karl Pilkington, the Confucian-like savant of the `Ricky Gervais Show', has led an extraordinary and curiously individual life.
As a kid growing up in Manchester he regularly missed school to accompany his parents on caravanning holidays and left without collecting his exam results: his family weaned him well.Pilkington's is a brilliant mind, locked inside a perfectly round head, and uncluttered by the unhelpful constraints of logic or common sense; factors that have led him to such dazzling insights as `you never see old men eating Twix bars' or that the `Diary of Anne Frank' was `an Adrian Mole sort of thing'.In this pithy and hilarious book, Karl is in conversation with (the often bewildered) Ricky Gervais and Stephen Merchant, the writers and stars of `The Office' and `Extras', outwitting even these comedy Goliaths with his take on such contentious issues as charity, the lack of Chinese homeless people, reincarnation, the rights of monkeys and favourite superpowers.Featuring Karl's original illustrations, imaginative scribblings, full-colour pictures sent in by fans, and the best conversations of the first twelve podcasts, this is a unique trip into the world of one of our most innovative thinkers, visionaries and prophets, or as Gervais and Merchant know him, `the funniest man alive in Britain today'.
Other Formats
Paperback from £6.89
EPUB from £1.99
Free Home Delivery
on all orders
Pick up orders
from local bookshops
Reviews
Showing 1 - 3 of 3 reviews.
Review by psiloiordinary
16/06/2015
A quick but tear filled read. My stomach muscles ached by the end.I have met this guy so many times and in so many guises.Listen to the pod casts first and you will drop straight into the groove with this book - if you don't you may wonder what on earth you have bought.
Review by Lazy_Lauren
16/06/2015
If you are a Ricky and Co podcast fan, then this is wonderful! Full of quirky drawings and lists such as "which animals are useless" it's a sidesplitting read. You can actually imagine Karl's mumbling voice as you read.
Review by fmnemonic
16/06/2015
Wavers between brilliantly funny and a little ho-hum - some of the banter between Steve Merchant and Karl Pilkington is genuinely very good. Ricky Gervais does a good job of playing the character Ricky Gervais (which seems to be the same in everything he is in).Excellent if you're a Gervais/Merchant fan and, if you aren't, then take pleasure in the fact that you can get through the whole book in a couple of hours.I'll admit that the presenter's elitism and and smugness really did begin to grate after a while...although maybe that's just part of the joke.