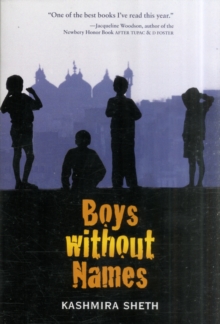 Boys Without Names
Paperback
Description
Trapped.For eleven-year-old Gopal and his family, life in their rural Indian village is over: We stay, we starve, his baba has warned.
They flee to the big city of Mumbai in hopes of finding work and a brighter future.
Gopal is eager to help support his struggling family, so when a stranger approaches him with the promise of a factory job, he jumps at the offer.?But there is no factory, just a stuffy sweatshop where he and five other boys are forced to work for no money and little food.
The boys are forbidden to talk or even to call one another by their real names.
Locked away in a rundown building, Gopal despairs of ever seeing his family again.But late one night, when Gopal decides to share kahanis, or stories, he realizes that storytelling might be the boys' key to survival.
If he can make them feel more like brothers than enemies, their lives will be more bearable in the shop-and they might even find a way to escape.
Information
Format: Paperback
Pages: 320 pages
Publisher: HarperCollins Publishers Inc
Publication Date: 24/05/2011
Category: General
ISBN: 9780061857621
Free Home Delivery
on all orders
Pick up orders
from local bookshops
Reviews
Showing 1 - 5 of 5 reviews.
Review by KatherineC032
16/06/2015
A fictionalized story of child labor in India is fascinating, disturbing and hopeful at the same time. It is an eye-opening look at the plight of young children in foreign countries, and is evidently well researched by the author. It is also about the power of friendship, caring and story-telling.
Review by brangwinn
16/06/2015
I love books that introduce me to other people's lives. In this case, boys who have been kidnapped and forced to live in a tiny room and glue beads on picture frames all day. I will never look at something that is made in India the same way again. Now i will think about the people who are doing the work on something I buy so cheaply.
Review by smheatherly2
16/06/2015
Great novel about Gopal, who is tricked into child labor, trying to supply money for his family. There is fantastic character development, when he tries to earn the trust of his fellow slaved friends and they master the prison they are in.
Review by agrudzien
16/06/2015
Gopal's family has fallen on hard times - his father has had to borrow money and though the family is working has hard as they can, it seems the debt is never ending. To escape, the family flees to Mumbai in the hopes of starting over with their uncle Jama. When the get to the city, nothing is as they expect it to be -- it is busy, dirty, unfriendly, and impossible to find the help they need to find Jama. After being separated from his father, Gopal tries to find work to support his family and is tricked into slave labor along with five other boys and they become the boys without names.This book was very bleak, and I had a hard time when Gopal gave up hope (about two-thirds of the way through). Although the ending was satisfactory, it was very heavy and I think would be even harder for a younger reader to enjoy.
Review by ewyatt
16/06/2015
Gopal and his family are desperate and destitute. Unable to pay back money they own, they decide to move to Mumbai to try to improve their fortunes. Gopal is desperate to help his family earn money, especially after his father disappears. Tempted by a job at a factory, Gopal soon finds himself working as a slave and unable to contact his family. A look at child labor and slavery in the modern world.